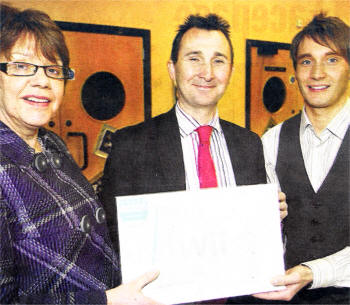 PUPILS at Parkview School on Lisburn's Brokerstown Road have been instrumental in choosing the name of Lisburn's latest private housing project which will commence in the NewYear.
Having noticed the school during preliminary site enquiries, well known building firm Antrim Construction Company Limited felt it would be appropriate, due to the proximity of the new development to the school, that the children should have some input into the site name.
A competition was organised by Ms Murial Martin, Principal and Rodney Agnew, Marketing Manager for the Construction firm to choose a name suitable for
the new residential development.
Building Control and Local Council guidelines were provided by the builder and the school organised a field trip to the development land. A shortlist of names chosen by the pupils was submitted to Lisburn City Council for approval with Holstein Hall being finally approved. The pupils came up the name Holstein after discovering on their field trip and during research how this was a special breed of cattle that once grazed part of the development land.
As a reward for their hard work the pupils were presented with the popular Wii games consul and Wii Fit Board earlier this week. Commenting on behalf of the builders Rodney Agnew said: "We are delighted to have been associated with Parkview school during the name selection process for Holstein Hall. It has been extremely rewarding to see how the children have enjoyed the experience of their field trip and the development naming project. "We asked the school what they would like in return for their hard work and I can see why they chose this particular gift. The delight and enjoyment the pupils are having has made this an uplifting experience."
The school was also presented with a special display board depicting images and photographs of their project and field trip.