by MARY MAGEE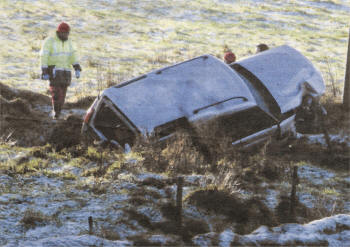 A 15-YEAR-OLD boy has become the latest person to lose their life on the roads here after a silver Land Rover Discovery in which he was a back sea passenger crashed off Divis Road in Dundrod in the early hours of Sunday morning.
Paul McDaniel from west Belfast died after the vehicle he was in lost control and hit a tree around 5am.
A 17-year-old male who was also in the vehicle was taken to hospital and three men, two aged 20 and one aged 19, were arrested and released on bail of Monday pending further enquiries Police are investigating the possibility the car may have been stolen.
The Divis Road was closed for most of Sunday and reopened again on Monday after police completed their investigation at the site.
The young boy who was killed was pupil at La Salle school. A spokesperson from the family described him as a hard working young lad who was getting ready for his GCSEs.
The spokesperson said that tragedy had left the family in 'complete shock'.
"Needless to say they have lost a much loved and adored son and we are heartbroken," the spokesperson said. "To say that this was not in Paul's character is an understatement. He was a great lad and words can't describe the pain of his loss."
Former Lisburn Mayor James Tinsley said the accident was a terrible tragedy for the boy's family at a time when many families were getting ready for Christmas.
He said that it was the second such fatality on the same stretch of road in four years.
"I would appeal to drivers, especially young people, to drive with care" he said. "This is a shocking accident to happen to someone who is so young.
"Whatever the circumstances behind this accident, a family have been left devastated by this tragedy."
Councillor Thomas Burns said the entire community has been left shocked..
"There have been a number of accidents in the area recently and all of them have come at a tragic price." he said.
"The cold weather has made the roads very dangerous."