by JULIE ANN SPENCE
Drivers feeling strain of on-street parking charges
Thousands sign petition calling for meters and charges to be scrapped
Parking petition handed over to Roads Minister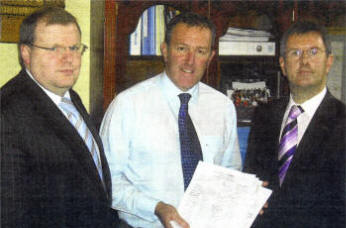 THOUSANDS of local people have signed a petition calling for an end to on-street parking charges in Lisburn City Centre.
The parking charges began in September and since then shoppers, visitors and local businesses have all been expressing serious concerns about the impact of the scheme.
This week Lagan Valley MP Jeffrey Donaldson and MLA Jonathan Craig handed over a petition, with 4600 signatures, to Roads Minister Conor Murphy, calling for an end to the charges.
"It is clear that the new parking restrictions and meters introduced in Lisburn city centre have generated a lot of opposition from local people and the petition is a clear indication of the strength of feeling on this issue," said Mr Donaldson.
"We presented the petition to the Minister and made it clear there was widespread concern that parking restrictions were damaging the local economy and acting as a deterrent to people shopping in the city centre."
Mr Donaldson and Mr Craig also raised with the Minister the concerns of residents in the Magheralave Road area of the city, who have seen an increase in all-day parking in the area since the charges were introduced. Mr Donaldson said he would be having further consultation about the parking charges with Lisburn City Centre Management and the Chamber of Commerce. He also called on the Roads Service to "look again at and revise" the parking restrictions.
He added: "We have called for a local transport plan for Lisburn, similar to the transport plan that exists for Belfast that would provide a more strategic approach to parking and traffic issues in the city. It would take an overview and suggest improvements for the future in the context of what is a rapidly expanding city."