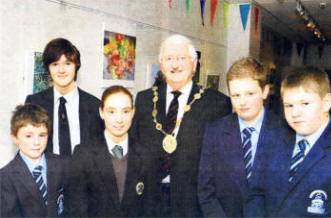 DROMORE High School pupils have clicked with the judges in a Digital Photography Competition. Pupils from the school picked up more than half the prizes in the recent www.mybestphoto.co.uk Digital event which was run by Hillsborough Young Artists Association.
Sponsored
The Competition was sponsored and supported by Lisburn City Council, Lisburn Arts Advisory Committee, Alexander Boyd Displays and jkevents.
Applicants were invited from over 15 schools in the surrounding Lisburn area and it was open to all students in secondary education.
The winning entries are now on display at the Island Arts Centre Community Wall. Prizes were presented by the Mayor, Councillor Ronnie Crawford, at the Island Arts Centre last week to the winning participants. They each received a beautiful illustrated hardback reference book and their award winning digital photograph exhibit.
The www.mybestphoto.co.uk competition will be open to all schools from September 2009.
Winners -
Year 8 1st Joshua Truesdale, 2nd Coral Dickson, 3rd Danielle Symth - all Dromore High School

Year 9 1st Johnathan Rosbottom, 2nd Laura Hazley, 3rd Jordan Hayter -all Dromore High School

Year 10 1st Rachel McAlernon St. Patrick's High School, 2nd Peter Elliot Friends School Lisburn, 3rd Sarah Taylor Banbridge High School

Year 11-12 1st Luke Morrison Dromore High School

Year 13-14 1st Conor Robinson Wallace High School, 2nd Mark Douglas Wallace High School, 3rd Conor Robinson Wallace High School

Image Manipulated - winner Matthew Ross Dromore High School. School Prize winner - Dromore High School