Julie with Carter and Tracy with Sam outside Parliament.
Muscular Dystrophy sufferers and their parents
make their way through Parliament Square.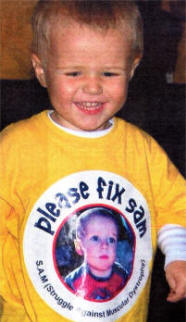 ANOTHER local couple have added their voice to the desperate cry for a successful Muscular Dystrophy treatment after their toddler son was found to be suffering from the invariably fatal disease.
Carter Dalzell (3) travelled with his parents Julie and Noel from Dromara, to London last week to join a parliamentary lobby involving a large number of sufferers and their families. Its aim was to persuade MP's to set aside £30 millions for research into the condition.
Like Hillsborough couple Tracy and William McCausland whose little boy Sam (2) also suffers from Muscular Dystrophy, they were devastated to realise their son faced such an uncertain future.
Julie voiced the feelings of all the parents present at Westminster when she said they needed people to "sit up and pay attention to the terrible suffering caused by the disease.
"Without funding for research our little boy will be robbed of a future and our hopes and dreams for him will lie shattered," she added
Tracy and William set up the campaign 'pleasefixsam' in Northern Ireland after discovering their son was a Muscular Dystrophy victim.
The campaign's aim is to raise £500,000 for the charity 'Struggle Against Muscular Dystrophy' over the next two years.
Tracy who travelled to London with Sam just days after taking part in a fund raising parachute jump explained there was double devastation for parents of a child diagnosed with the condition.
"It is devastating to find that your child is suffering from such a horrendous condition. It is even more devastating to discover that there is a lack of funding for vital research which could eventually promise Sam - and other young victims of Muscular Dystrophy - the chance of a treatment which could at least slow the progress of this disease," she added.
"There have been promising developments in research over the past two years, but without funding these potential drugs cannot progress to human trials, and given that these children do not have the luxury of time this must be urgently redressed.
"We are hoping that the government will sit up and take notice of the fact that they have the opportunity to effectively change the futures of these little boys."
At the lobby Tracy, Julie and Noel had the opportunity to meet with local MPs including new First Minister Peter Robinson, Jeffrey Donaldson, Arlene Foster, Nigel Dodds and William McCrea.
"They were hugely supportive of our campaign and said they would do everything possible to help us in our quest for greater funding and awareness of Muscular Dystrophy," she added.
Struggle Against Muscular Dystrophy (S.A.M.) have set up a website www.pleasefixsam.com which gives detailed information on the condition as well as information on fundraising events.