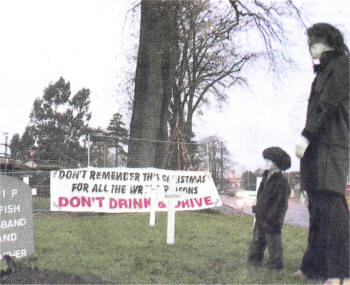 At the entrance of the army's headquarters in Lisburn
A POIGNANT reminder of the dangers of drink driving has been constructed at the entrance to the army's Northern Ireland HAQ at Thiepval Barracks in Lisburn.
The display symbolises a bereaved family counting the cost of loss of life through the dangers at this time of the year. A mother and child stand forlornly in front of the grave of an "inconsiderate father" surrounded by headstones bearing the names of alcoholic drinks. The display at the gates of the barracks comes following a series of briefings to all personnel when they were reminded of the dangers of taking to the wheel themselves after drinking or allowing themselves to be driven by someone else who is under the influence.
An army spokesmen said: "It is normal practice at this time of the year to place strong displays and imagery to remind everyone of the dangers. At other bases you will see accident damaged cars with signs emphasising how quickly tragedy can strike - at Thiepval Barracks the military police took this a step further with some imaginative thinking."