Mayor disappointed with party leaders' `poor response' to John Lewis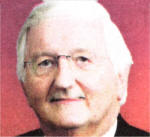 THE Mayor of Lisburn has expressed his disappointment over the lack of support' from party leaders for the proposed John Lewis development at Sprucefield.
Lisburn City Council wrote to each of the political parties represented in the Northern Ireland Assembly seeking support for John Lewis nearly six weeks ago, but to date only two leaders - Gerry Adams of Sinn Fein and Jim Allister of the TUV - have responded.
Mayor Ronnie Crawford said: "It is most disappointing, though frankly not surprising, that the other parties have failed to show any indication of their support and the voters of Lisburn will note this carefully."
Jim Allister, leader of the Traditional Unionist Voice, told the council he was happy to confirm his strong support for this project and to confirm that he has written accordingly to the planning authorities.
"I have no doubt that this development would not only greatly enhance the economic appeal and performance of Lisburn but would be a great boost for all of Northern Ireland. My only regret is that such delay has attended the realisation of this scheme" he said.
And Mr Adams said he had sent a letter to the Minister of the Environment expressing support for the proposed development at Sprucefield Park and the opportunity for a John Lewis department store.
Sprucefield plans 'not affected' by announcement of Dublin store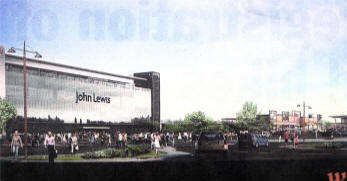 LISBURN'S Mayor Councillor Ronnie Crawford says he has been assured last week's announcement that John Lewis is to open a store in the heart of Dublin has not affected the company's plans to be anchor tenant at Westfield's proposed Sprucefield development.
However, Mr. Crawford also made it clear he believed the unveiling of the department store's plan for a 50 million Euro outlet in O'Connell Street would prove 'a test of the seriousness' with which Northern Ireland's politicians treat the province's economy.
He said an urgent decision was required from planners on the revised Sprucefield Park proposals and claimed the opening of a John Lewis store in Dublin before one at Sprucefield would be 'a terrible indictment' of Northern Ireland's planning process given the first application was lodged four years ago.
The Mayor also warned there was 'still the possibility' Northern Ireland could lose 'not only the initiative but potentially 1,000 much-needed jobs.
If this happened, he added, local politicians would carry the responsibility.
"The John Lewis name is a huge draw for shoppers. Rather than shoppers staying in Northern Ireland they will simply go in coach-loads to Dublin if John Lewis goes there and the Lisburn store is not approved,"
he said. in current economic conditions, and with future economic predictions, it is vital to ensure that Northern Ireland plc provides a complete choice of shopping for consumers. The Sprucefield development would also bring many benefits to the local economy."
Mr. Crawford urged everyone who wanted to see John Lewis open a store at Sprucefield to sign the City Council's petition supporting the Westfield development.
The Dublin store will be John Lewis's first outside the United Kingdom.
The company has agreed to take the anchor unit in 'Dublin Centre, a 1.2 billion euro retail complex by developer Chartered Lands expected to open in 2013.
The store will cover an area of 250,000 square feet spread over five floors and is predicted to bring 800 jobs to the Republic's capital.