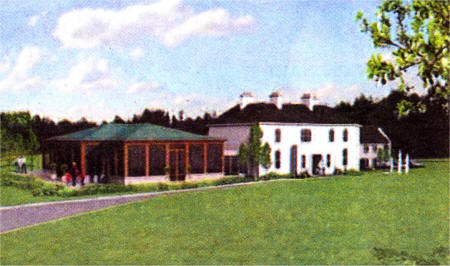 An impression of the Hillsborough Road hotel and spa plan which could open with 12 months.
LISBURN'S long awaited new hotel is set to open with a year after the City Council gave the final go ahead at its planning meeting last week.
The 60 bedroom Premier Inn hotel, which is part of the UK's largest hotel group Whitbread Plc, will be built at a parkland site off the Hillsborough Road and will be developed by the Conway Group
Speaking on behalf of owner and developer the Conway Group, Des Taggart said: "We're delighted to have achieved the final stage of planning and we can now move on site to start work on this much needed hotel for Lisburn. The hotel should be complete within 12 months and ready to open to the public in Spring 2009.
The development will create an excellent new tourism amenity with a Premier Inn hotel and Table Table restaurant in a
beautiful setting beside the River Lagan that will be great for tourists and the local population in Lisburn."
Northern Ireland Acquisitions Manager for Whitbread plc, Mark Adams, said: "Lisburn is a city on the up and this site offers an excellent location so we're very excited to be bringing this new hotel to the area and are really looking forward to seeing the site develop and welcoming our first guests in Spring 2009.
"This £10m investment will create up to 60 new full and part-time jobs and we're confident the hotel will be a great success. As the UK's largest hotel group, with 500 hotels, we welcome over 10 million customers every year.
"We actively market our hotels and boast a strong customer base and would therefore expect this new hotel to attract thousands of new visitors to Lisburn."