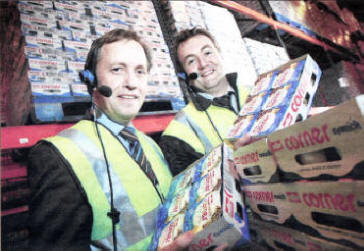 A NEW sophisticated voice activated software package is being rolled out by Lisburn-based PRM logistics in a bid to increase warehousing efficiencies and reduce costs.
Supplied by ICS Computing in Belfast, the voice-activated system has transformed the warehousing facilities at PRM - one of Ireland's largest independent chilled and frozen food sales and distribution companies, handling over 250,000 cases of product per week.
ICS's specially tailored voice activated picking system was designed to make the warehouse handling of their extensive product range easier and faster, eliminating errors and speeding up turnaround by 15%.
Already in use by some of the world's largest retailers, including the Walmart chain, PRM is one of the first companies in Northern Ireland to adopt voice-activated technology for this purpose.
Paul Shields, Project Manager of ICS Computing, commented on the system, saying: This system cuts out the need for traditional warehouse processes which required reams of paper lists and barcode scanning and replaces it with computer based voice commands, which direct the warehouse picker to select the appropriate product and quantity in preparation for shipment. Implementing the new technology has been shown to significantly reduce errors, speed up the picking process and keep warehouse operation costs to a minimum."
Highlighting how the new system has increased productivity by 15% and reduced errors by 65%, Michael Morrow of PRM Logistics, added: "The new system has made a huge difference in terms of our response time. In an increasingly competitive marketplace, we have to get it right first time every time - there's simply no room for errors.
"This has been a valuable tool for us in achieving faster error-free picking. The information is in real-time - so we have a clear picture of where resources are needed at any given time. Improved efficiencies have also enabled us to deliver an enhanced level of service to our customers. Staff training has been very straightforward and as the benefits of the system have been so obvious, the entire workforce has been quick to embrace the new technology."