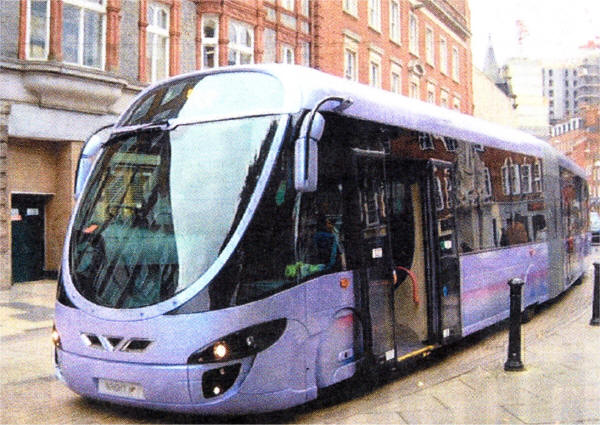 The type of vehicle which would be used on the system proposed by Regional Development Minister Conor Murphy.
THE Chairman of Lisburn City Centre Management has not ruled out the possibility of any new rapid transit system in the Belfast area being extended to include Lisburn.
Speaking at Wednesday morning's business forum in the Museum, Alderman Edwin Poots confirmed efficient public transport would be needed if 20,000 potential jobs at Sprucefield and the Maze development became a reality.
He pointed out it was unlikely this large number of employees would all be found in the immediate Lisburn area and said high capacity transportation would be needed to get them to and from their places of employment.
Mr. Poots, who is Northern Ireland's Culture, Arts and Leisure Minister, has been a keen exponent of Lisburn being served by a rapid transit system for some time. His comments on Wednesday were prompted by questions about the possibility of the bus based scheme announced for Belfast this week by Economy Minister Conor Murphy being extended through Lisburn to carry people to and from the Maze and Sprucefield developments.
Commuters from other parts of the city could then be transported to the high speed service by feederbus.
Mr. Murphy has initially earmarked £111 million for the new system.
However, three pilot routes will cost £147 million alone and the Minister hopes private investment will also become available.
The buses used will resemble trams on rubber wheels and kerbs will be used to keep other traffic off the routes.
Halts along the routes will feature ticket machines allowing people to buy tickets before boarding thereby cutting waiting times at the stops.
There may also be crossings were traffic is stopped to allow the buses through in the same way as a railway level crossing operates. Similar systems currently transport commuters in Leeds and York while another is due to begin in Swansea next year.