by JENNY MONROE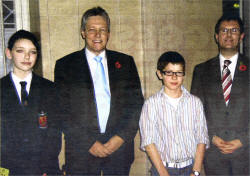 TWO local school pupils have been treated to a VIP trip to Stormont by Lagan Valley MP Jeffrey Donaldson.
Stephanie Clokey from Wallace High and Ben Finlay from Riverdale Primary won the opportunity to visit Stormont to experience what it is like to be an MLA after entering a competition to help provide names for the new Lagan Valley website for school age children who wish to know more about politics and give their views on issues in their areas.
The pair listened as Professor 0lle Johannsson spoke about Wi-Fi in School and watched the presentation being recorded for a documentary.
They met the Professor, radio personality Ronan Kelly and attending MLAs to get photos and autographs.
A guided tour of the building was next on the list with both having the chance to sit in the First Minister's seat in the Assembly Chamber.
Mr Donaldson joined his guests for lunch in the members dining room and onto the Junior Minister's Office to discuss local issues that interested them.
"For Ben this included a skate park for Lisburn and for Stephanie how she felt the council should tackle the problems of litter.
Ben and Stephanie also had a chance to speak to the First Minister Peter Robinson. Stephanie said: "My visit was a very special day. My favourite parts were the tour around Stormont, seeing the Assembly Chambers and hearing the story
about painting the building with a mixture of tar and manure to make it blend in with the ground so it would not get bombed in the war time."
Ben commented: "The best part of my day was probably meeting all the MLA'S and the guided tour of the building."
Also as part of the prize Riverdale and Ballycarrickmaddy Primary (Stephanie's school at time of competition) each received 1000 tesco computer for schools vouchers, sponsored by Tesco.