Cheers and toasts as Principal gets the MBE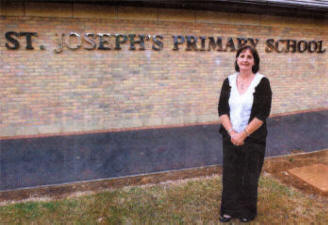 FOR once no-one minded when the children of St Joseph's Primary in Crumlin cheered loudly when they got into school on Monday - because it was a very special day.
They were cheering their principal of 11 years, Mrs Catherine Wegwormer, who had been awarded the MBE in the Queens Birthday Honours for Services to Education in Northern Ireland.
Mother-of-three Mrs Wegwermer was treated like royalty herself when she got into school. Teachers greeted her with a light hearted surprise party. One dressed up as a beefeater, and a red carpet was set out to walk on. They rounded off the celebrations with teachers toasting her in some non alcoholic bucks fizz
Mrs Wegwermer has been teaching for the past 30 years said that she was 'deeply honoured' yet puzzled cecause she still does not know who nominated her for such a prestigious award.
St Joseph's has had many successes since she became principal over a decade ago but Mrs Wegwermer says the credit for its success is down to teamwork.
"It is a great honour but we have a very strong network of teachers, staff and the community who have all helped make St Joseph's what it is today," she said. "Education is very important to us and the success is all down to the commitment by teachers and staff - and there is always great loyalty and commitment from the children.
"I must also give credit to the Board of Governors and the Department of Education." Among the many successes St Joseph's has enjoyed are the Best Practise Organisation in 2007 (a recognition of Emotional Intelligence), the first school in the North Eastern Education Board to receive funding for extended schools, the Investors in People Award (IIP), shortlisted for the Best Place to Work Award (Irish News) and a UNICEF award as a Right Respecting School.
Formerly vice principal of Park Lodge, where she spent 19 years, Mrs Wegwermer became principal at St Joseph's in 1997.
She is married to Michael and they have three children Anna, Rachel and Ruth.
---
Lisburn woman honoured for lifetime of service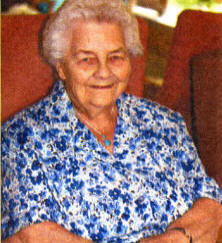 A SENIOR citizen from Lisburn has been awarded the MBE for voluntary service to the community in Northern Ireland in the Queen's Birthday Honours list.
Miss Elizabeth Hill, 85, said the recognition was very unexpected.
"I never thought I would get it. It means a lot to me and I really appreciate it. All my immediate family have passed away but my friends are delighted for me" she said.
Elizabeth, of Old Manor House, worked at Blackstaff on the Springfield Road in the wages office before moving to the accounts department of Bridgeport Brass factory on the Ballinderry Road.
She has been connected with Magheragall Parish Church all her life. Not only was she a Sunday School teacher but also held the office of both Treasurer and Secretary, was a member of the Select Vestry and the Conor Diocesan and served on the General Synod. She has also been a member of the Ulster Unionist party for over 60 years and was the Treasurer of the Lagan Valley branch for many years.
Talking about her recognition Elizabeth said that she has always enjoyed helping others.
"It keeps me busy and gives me a lot of pleasure and satisfaction" she said.
Elizabeth still continues to volunteer her time and is the Treasurer of Magheragall Senior Citizens Club and even attends computer classes.
"I would like to thank whoever put my name forward for the honour - it means a lot to me."
A self - confessed Royalist, Elizabeth says she is looking forward to receiving her honour and meeting the Queen.
---
Photographer John snaps up an honour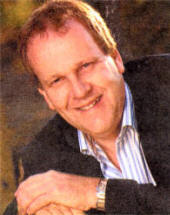 THERE could well be more than a glimmer of recognition in the eye of the Queen when she presents Lisburn photographer John Harrison with the MBE he received in last weekend's Birthday Honours List.
For the proprietor of Harrison Photography, who said he was both 'surprised and delighted' to receive the accolade, has photographed the Monarch on many occasions.
The Royal connection started with the Queen's Silver Jubilee Visit to the University of Ulster at Coleraine in the Summer of 1977.
John, who is currently the Northern Ireland Press Photographer Association's Chairman, was just 17 at the time and a Junior Photographer with the Ballymena Guardian, part of the Northern Newspaper Group. His coverage of the Royal visit was used on the front page of every one of the Group's newspapers - a major achievement for such a young photographer. This period in John's life proved to be a strong foundation for a career which has seen him rise to the top of his profession. He said he could not have managed without the support provided at the time by his parents Ann and Frank "I will always be grateful for the help they gave me," he added.
John joined Pacemaker Press International in 1983 and already had considerable experience covering everything from dinner dances to political rallies as well as the tragic aftermath of many terrible acts of violence carried out during the troubles.
On his first day he was assigned to cover a shooting in the Newtownabbey area and the picture appeared on front pages both locally and nationally.
A dream of going into business for himself was realised in 1994 when he formed John Harrison Photography.
His aim was to specialise in public relations type photographs using his newspaper skills to provide a service for clients such as PR companies and Government Departments.
He was appointed Official Photographer for three visits to Northern Ireland by Bill Clinton; the Queen's Golden Jubilee visit; Prime Minister Tony Blair's visits and President George Bush's summit with Mr. Blair at Hillsborough Castle in 2003.
John, who has won many prestigious awards during his career, also worked on high profile assignments with the Northern Ireland First and Deputy First Ministers to Washington, St Louis and Brussels as well as Economic Development Ministerial trips to Boston,
---
Initial letter`quite a shock' to Catherine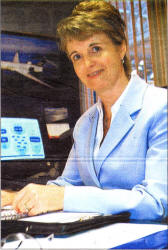 MOIRA woman Catherine McKeever said she was 'delighted' to receive an OBE in the Queen s birthday honours list.
Catherine, who is Director of Quality at Bombardier Aerospace in Belfast, admitted she was shocked when she heard the news.
The initial letter came as quite a shock to me, but I am delighted to have been awarded an OBE. It's a great honour to receive such recognition" she said. Catherine, who is married with three children, graduated from Queen's University with a BSc in Mechanical Engineering and joined Bombardier in 1983. Over the years she has held various positions and has worked in a number of locations including Montreal.
Her current role involves leading the team responsible for developing and strengthening the effectiveness of the company's Quality System to ensure the quality of all products and services delivered complies with regulatory requirements and is to customers' satisfaction.
Catherine was the inaugural chairperson of the Northern Ireland Aerospace Consortium. She is a past chairperson of WISE (Women into Science, Engineering and Construction) in Northern Ireland and received the UK National Ambassador Award from WISE in 2004.
Catherine also gives talks and presentations to young women, encouraging them to consider careers in engineering and technology. She is a fellow of the Institute of Mechanical Engineers and an honorary fellow of the Royal Aeronautical Society.
---
Lisburn man delighted to receive OBE
LISBURN man John Cooke has spoken of his delight after he received an OBE for his work as the Head of Near Market Research and Development with Invest Northern Ireland.
And he paid tribute to the contribution of his colleagues, whose work developing businesses across Northern Ireland, he said, helped him to receive the honour.
John commented: "It is an honour to receive this recognition for the contribution made by myself and my colleagues at Invest Northern Ireland in encouraging local companies to place research and development at the core of their business activities.
"Creativity and new product development are key to the sustained success of businesses, and we must continue to ensure that Northern Ireland companies embrace the concept of innovation in order to gain a competitive advantage in dynamic export markets."
John has made a significant contribution to public service during his career to date, particularly in promoting research and development (R&D) and innovation to Northern Ireland businesses.
He has been responsible for changing business attitudes to R&D and encouraging a focus on new product and process development as a key source of competitiveness. In his present role as manager of the Compete programme, Invest Northern Ireland's flagship programme for R&D, he has been responsible for supporting over 650 companies and over £82m of business investment in R&D. John has achieved considerable success in raising R&D expenditure over the last ten years, particularly amongst SMEs, thereby stimulating the growth of technology-based businesses in Northern Ireland. He has also been an active ambassador in developing awareness of the importance of innovation in Northern Ireland, both to the business community and the wider public sector.