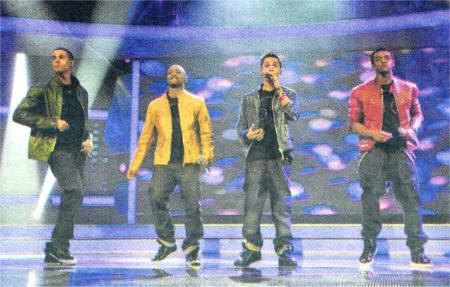 X FACTOR hopefuls JLS are planning to take their performance on the hit show tomorrow night (Saturday) "to another level" as they bid to be crowned champions.
Band member Aston Merrygold, whose mother is originally from Dunmurry, has said the band are growing in confidence as each week on the show passes, and they hope to take another step towards their music dream when they perform again tomorrow night.
The group wowed the judges last week with a fantastic performance of 'Working My Way Back To You' during Disco week and this week they will face a new challenge on 'Mariah Carey' week on the show.
"It's going well," said Aston. "We got great comments on Saturday so we are very, very pleased.
"We are definitely growing in confidence each week, it feels a lot more like home now, we just want to get on stage and perform.
As each week passes for the group, however, the challenges get harder. Last week saw the group get their best comments from the judges, with Dannii Minogue telling the band "that was brilliant".
Cheryl Cole agreed saying JLS's performance of The Four Seasons classic hit "definitely cemented that they are best group we've ever had on X Factor."
Simon Cowell added: "Guys, you're back in the race. Tonight was the first time I actually could imagine you guys getting into the final."
Speaking ahead of this week's live show, Aston said the band will be giving their all during their performance as they aim to make it into the final seven.
"People are saying 'JLS could be in trouble this week', but we want to take it to another level. We're loving every minute of it and we don't want it to end."
20-year-old Aston, who has relatives living in the Lisburn area, attended the world premiere of the new James Bond film 'Quantum of Solace' last week with his fellow contestants .
"It was crazy. Just to be at the world premiere of James Bond was unbelievable. We saw Daniel Craig, Dame Judi Dench and the Princes were there, it was absolutely crazy.
"A couple of weeks ago we could happily walk through Leicester Square and no-one knew who we were and now we are there on the red carpet with people asking for our autographs."
Saturday night's X Factor saw one of the show's favourites, Austin Drage, he voted off and Aston is aware no act is safe.
"It was a big shock, but at this stage everyone is so good that anyone can go. We were good friends with Austin
and we will still keep in touch with him."
As well as his experiences on the show Aston also fulfilled a lifelong dream this week, as he hit the top spot in the charts with his fellow contestants when their version of Mariah Carey's 'Hero' reached number one, with proceeds going towards the 'Help For Heroes' charity.
"To be on a track that is number one is a dream come true," he said.
"We are all in this to make music and to get to number one and to have achieved that with this song, which is for such a good cause, is amazing.
"We just want to carry on in The X Factor and we hope the people in the Lisburn area will keep watching and