| | |
| --- | --- |
| | by STACEY HEANEY |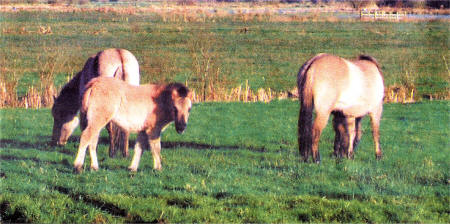 The Konik ponies quickly settled into their new home at Portmore Lough Nature Reserve.
A GROUP of rare Polish ponies arrived at Portmore Lough this week to assist an RSPB conservation project which is currently underway.
The nine Konik ponies - a primitive Polish breed, are believed to be the first of the breed in Ireland, and were brought to Portmore as part of a project to enhance and restore the wetland habitat at the nature reserve. The ponies were released on Wednesday morning, following a long journey from Holland which took them through Denmark, before arriving in Northern Ireland on Tuesday night. Despite their long haul, they quickly settled into their new home near Lisburn.
John Scovell, RSPB warden at Portmore Lough Reserve said, "This is part of a whole regeneration scheme to conserve the Lapwing, Snipe Curlew and Redshank. The ponies wil help to keep down areas of scrublanc which can have a detrimental impact on the species, especially the Lapwing.
"They are wild, hardy ponies that can survive in conditions of minus 30 and are happy up to their tummies it water. They were let off this morning and they have explored the whole site, I can see them now grazing away they look superb and not at all anxious," he said.
The koniks originated in Eastern. Europe and were the closest living relative of the last breed of western European wild horse, the Tarpan, which is now extinct.
| | |
| --- | --- |
| | |
| The Konik ponies are released at Portmore Lough. | The Konik ponies get used to their new home. |
John continued, "The ponies have all the attributes of the Tarpan; they are the closest thing to primitive horses there are. They will live on the edge of the marsh, where aggressive plants grow. The ponies will eat those aggressive plants, which will be better for the insects and birds.
"Although the ponies are wild, they are docile, you can walk among them and they won't bother with you. It will take them a year to really settle; they operate as a herd, with a stallion, a mare and foals.
"They are cautious animals, they will work out where the drains are, where the plants are, where the wet spots are. If they get sick they will eat plants that will cure them, they are remarkable. They rarely get sick but we will have a vet check them once a year to check their health and their feet; though they will have little human contact."
John continued, "This was made possible by Biffaward landfill community fund, who award grants for conservation projects each year. We received funding for specialist vehicles as well as for habitat management, which includes this project and a small shelter for bird watching."
Portmore Lough Nature Reserve is the perfect place for families in the spring and summer, with a place for a picnic as well as plenty of nature spotting, including many birds, butterflies and wildflowers.
John said, "Anyone can come and enjoy the area, although if they come in the winter they should bring wellington boots, however it is a fun day for all the family."