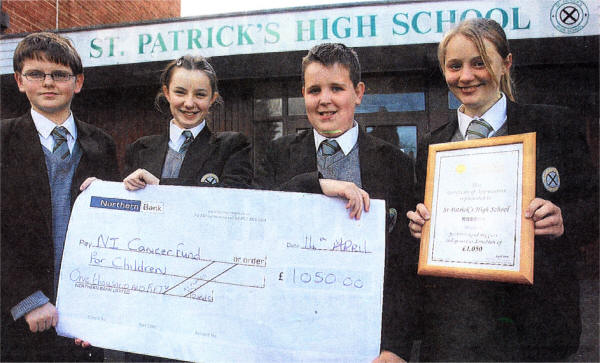 Thomas Perry, Caiomhe Moran, Samuel Seaby and Gemma Livingstone with a cheque for Northern Ireland Cancer Fund For Children for £1050 raised during a recent Read On Event at the school. US1608-103A0
PUPILS from St Patrick's High School have raised a staggering £1050.00 for the Northern Ireland Cancer Fund for Children by holding a sponsored 'Read On' event in the school.
St Patrick's High School has embedded a strong reading culture amongst its students and earlier in the term all junior school students participated in the annual 'Book Review' Competition and a storyteller visited the school.
Louise O'Neill, an English Teacher and 'Read On' Coordinator at St Patrick's said: "This was an inspirational experience for the students, who through their fundraising were able to empathise with young people of their own age and also gain enjoyment through reading."
At the presentation Rachel Burgoyne, Schools Fundraiser for the charity added: "I would like to take this opportunity to thank the school, its pupils and their families for the invaluable support they have provided to local children and teenagers who are living with cancer."
Money raised from the 'Read On' will provide support to children suffering from cancer and their families.
In the past year, over 1,600 young people with cancer and their siblings have received support from qualified youth workers at Narnia a facility for children and their families in Newcastle.
For more information about the charity contact Rachel on 028 9080 5599 or e-mail rachel@nicfc.com.