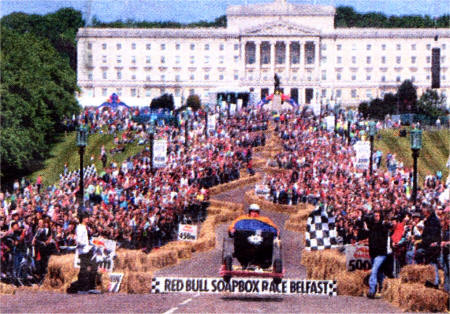 A crowd of up to 40,000 enjoyed the Red Bull Soapbox Race at the Stormont Estate on Sunday May 25.
LOCAL teams raced away with the top titles at the Red Bull Soapbox Race at the Stormont Estate on Sunday.
A crowd of 40,000 people turned out in the sunshine to watch the race, where 44 weird and wonderful soapbox creations careered down one of Belfast's steepest hills in an attempt to take the coveted Red Bull Soapbox Race title.
Hillsborough team Ruddell Metals, consisting of Andrew Ruddell, Andrew Currie, Trevor Marshall, Mark Kennaway and John Lockhart, were voted overall winners at the event and will now be flying off on a fantastic VIP trip to the Hungarian Formula One Grand Prix in August. Lisburn team Top Gunners, consisting of Robert Irwin, Sara McCausland, Neil Irvine, James Irwin and Chris Ragg, finished an impressive second, scooping a VIP trip to the Moto GP in Valencia on October 28.
Andy Ruddell, captain of Ruddell Metals, said the team got their inspiration from the racing career of Juan Manuel Fangio and his wonderful Mercedes Silver Arrow - 'the greatest motor racing driver ever'.
Speaking after the event, a delighted Andy said, "Each and everyone of our team had a fantastic day from start to end. We enjoyed every bit of it immensely. The crowds really made the event for us as they cheered us along the course.
"After we did our run we walked back up through the throngs of people who were all greeting us and cheering us and taking our photos -that bit was the best fun for us."
The event was hosted by Radio One DJ Colin Murray and model Katie Larmour, judging the event were Cool FM DJ Pete Snodden, BBC weather presenter Angie Phillips, BBC sports presenter and journalist Stephen Watson and Jeremy McWilliams - MotoGP World Championship Rider 1993 - 2004, who scored the soapboxes on creativity, showmanship and speed.
| | |
| --- | --- |
| | |
| Hillsborough Team Ruddell Metals were voted the overall winners at the spectacle last weekend. | Top Gunners, who finished second, picked up a VIP trip to the Moto GP in Valencia later this year. Insert: Lisburn team Cushie Galore in action. |