by MARY MAGEE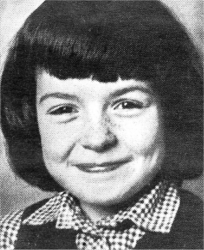 SERIAL child killer Robert Black is to be brought to Northern Ireland to face trial for the murder of Ballinderry schoolgirl Jennifer Cardy in 1981, the Public Prosecution Service has confirmed.
Black, 61, is serving 10 life sentences for the rapes and murders of three young girls in England and Scotland and will face trial next year for the murder of Jennifer, who was just nine at the time.
The spokesperson for the PPS said that they have made a decision to prosecute but the process is still in its very early stages
It is not known when Black will stand trial, hut it will be in Northern Ireland and it is believed Black will be brought from Wakefield Prison to Maghaberry or Magilligan during the trial.
Jennifer went missing as she cycled to a friend's house near her home in Ballinderry in August 1981. Her body was found by fishermen at McKees Darn near Hillsborough six days later.
At the time Black was working as a van driver delivering posters across Britain and Ireland and it is believed that he had been in the area at the time.
Black was questioned twice about the murder. The first time was in 2005 at Wakefield Prison. He was later brought to Antrim Police Station.
A spokesperson for the PPS said: "A decision has been taken to prosecute Robert Black for the murder of Jennifer Cardy and the trial papers are being prepared. "Because he is already in custody there is a legal mechanism to bring him to court and he will stand trial in Northern Ireland for the Jennifer Cardy murder."