`He was such a caring character, he would have done anything for you'
by MARY MAGEE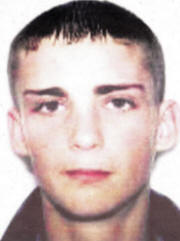 THE mother of the young man killed in a motorbike accident in Lisburn two weeks ago has described him as 'the best son a mother could wish for.'
Paula Lemon's son Robert, from Whiteglen in Lagmore, died after his motorbike slid from under him as he travelled at just 22mph on a wet road at Grand Street. He was knocked off the bike and hit a wall, severing an artery.
Robert had bought the one year old Honda bike just three days before.
He was doing his apprenticeship in joinery at the Knockmore campus of the South Eastern Regional College and just weeks before had received a Young Achievers' Award at Stormont for his work with the Princes Trust. During the 13 week course with the Trust he had worked at an old people's home where he helped tidy the garden and had raised money through bag packing.
Robert also took part in the Four Peaks Challenge, run by the YMCA two years ago, and was offered work as a youth leader.
He was due to go to Capetown in South Africa later this year, as part of the Springboard scheme, to build houses.
Robert's proud mum spoke of what her son had packed in such a short life.
"He had such a caring character," said Paula. "He would have done anything for you. He was a real fighter who refused to give up on anything. when he was wrong he would admit it but would have done anything for anyone.
"He was a great fellow, and loved life."
Robert was a past pupil of Fort Hill College and before starting his apprenticeship took a year out to help his mother at home. She was pregnant with her fifth child at the time and was very ill.
"I don't drive and I found it hard to get about," said Paula.
"He went to the shops for me, sometimes ten times a day. That was the sort of person he was, he just helped out. He was the man of the house and I relied on him a lot."
Robert, who turned 18 in September, always dreamed of owning a motorbike.
"He loved motorbikes and that was his dream to have his own," said Paula. "He had scramblers but he always wanted a road motorbike. "The bike was only a year old and Robert was always very careful riding."
When Robert came off the bike he hit a wall and severed a main artery to his heart.
"It was just a freak accident," Paula said. " It could have been anyone and unfortunately it happened to my son.
"I was never 100 per cent behind him getting a bike, I would have preferred him getting a car as it is safer. But he always said that he wanted a bike and when he had enough money he would buy one. That's what he wanted."
Travelled
When Paula received a call about the accident she travelled to the Lagan Valley in the ambulance with her son. He was fully conscious and told his mother how much she meant to him. Paula hugged him and held his hand and told him how much she loved him.
As the ambulance neared the hospital Robert complained of his ribs being sore and became unconscious. By the time he got to Lagan Valley Hospital a team of 15 medical staff worked on him and later that night was transferred to intensive care at the Royal.
For nine hours he fought bravely before the life support machine was switched off at 12.50am. Paula held his hand as he slipped away.
"The doctors and staff just worked really hard to save him," she said. "He was a real fighter and fought to the very end. He fought for nine hours to stay alive."
Paula described her son as kind hearted and loveable.
"Someone told me that he could easily have taken the 'wrong road' with his life but he chose the 'right road'.
"He had lots of friends and everyone loved him. If there was any trouble he just walked away. He always said to me mum 'nothing is worth fighting about' "