by JENNY MONROE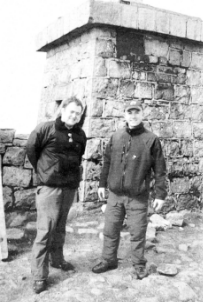 A LISBURN man leaves next week to climb the highest mountain in North Africa in a bid to raise money for a local Scout group.
Roger Duncan, 32, hopes to climb Jebel Toubkal in Morocco with his friend Simon Ball from Portglenone.
The men, who are keen climbers, aim to reach the summit on March 19.
Roger, who works at the Lisburn Campus of the South Eastern Regional College said he regularly goes climbing with Simon but this is the first time they will have climbed to raise money.
"My wife runs the Squirrels section at the Scout Hall in Hillsborough which has been in regular use for many years now. To ensure the Scouting Movement in Hillsborough goes from strength to strength, they require a new hall to be built on their current site. As you are aware, this will not be cheap, and I am raising donations to help the Scouting Movement and ultimately the Scouts in Hillsborough.
"Simon has also chosen to help raise money in aid of Autism."
Roger, who has two young boys, is looking forward to the expedition.
He said: "We are climbing unsupported, lugging not only ourselves but all kit without the aid of porters or mules.
"We hadn't intended making it this difficult, but we couldn't find a travel company to take us up in winter, mules don't 'do' ice and these are the only dates that suited both of us.
"We are making all arrangements and funding the trip costs personally, so all money donated goes straight to charity.
• If anyone would like to make a contribution they can email artfuldodger29@hotmail.com for more details or log onto www.justgiving.com/summitorbust.