DUP tipped to take on deputy role
by NEIL GREENLEES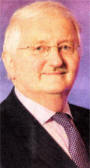 LISBURN'S Ulster Unionist Deputy Mayor Ronnie Crawford looks certain to become the city's First Citizen at the Council's Annual General Meeting on Monday.
Sinn Fein has said it will propose Councillor Charlene O'Hara, one of the youngest councillors anywhere in Ireland, for the position, but Mr Crawford seems certain to have the support of the DUE SDLP and Alliance as well as his own party.
The DUP has confirmed it will put forward a candidate for Deputy Mayor, but it is not yet certain who it will be. It looks as though it will be either Alderman Edwin Poots, who lost his job as Minister for Culture Arts and Leisure last week, or Councillor Allan Ewart. Many of the council's committee chair and vice chairs are in mid-term and will remain in post until next year. However, Councillor William Leathem will have to be replaced as chairman of the Planning Commitee. The current deputy is UUP councillor William Ward. Sinn Fein leader on the council Cllr Paul Butler urged the unionist parties to share out the top posts.
"All three DUP MLA's from Lagan Valley, who include Jeffrey Donaldson as a Minister in the Stormont Executive and Edwin Poots as a former Minister, owe their status as MLAs and Ministers to the decision by their former party leader Ian Paisley to finally accept power-sharing and equality provisions at Stormont,' he added.
"It now appears they have retreated from power-sharing at the first opportunity through their support for the exclusion of the largest nationalist party within Lisburn."
neil.greenlees@jpress.co.uk