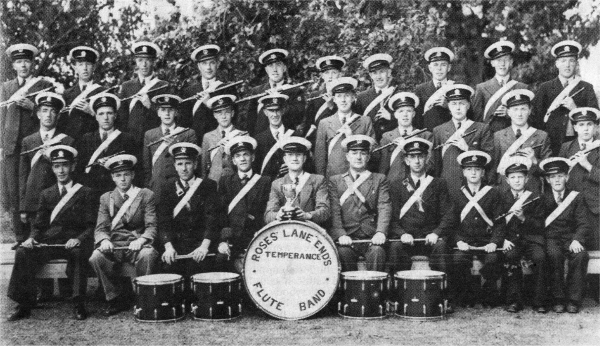 Roses Lane Ends band on July 12, 1948.
A LISBURN flute band founded 100 years ago by a man who painstakingly bought one instrument per week will celebrate its centenary tonight (Friday) at a party in Stormont's Great Hall
The event in honour of Roses Lane Ends has been organised by Lagan Valley MP Jeffrey Donaldson, one of the band's most dedicated supporters.
This temperance flute outfit from Ballinderry is so called after a crossroads in the district where a shop once stood with a lady called Rose (McMullan) behind the counter.
Now Roses Lane Ends, founded by one Edward Stitt is about to celebrate its centenary on Friday December 12.
"We couldn't have a grander venue," says member Roy Wilson. "Every member is looking forward to that 100th birthday bash."
Especially concert flautist Willie Yarr who at 88 is the oldest member and still going strong.
Roses Lane Ends is in perfect harmony today with Alwyn Toner conducting, but wasn't always like that. The band was once so poor it couldn't afford to buy a drum and had to beat time on a table.
Any former members or supporters who wish to attend the great event can contact bass flautist David Steele at 02894-42236 for details and tickets.
"It's going to be an emotional occasion for everyone there," says David who explain that the band grew out of Roses Lane Ends Orange Lodge No 68 with whom it parades at Twelfth of July and on other anniversaries.
Founder Stitt ó in the summer of 1908 used to travel to Belfast market every Friday to sell farm produce and each week he bought a new flute for half-a-crown (12 and a half pence today) until all his musician; were equipped ó including the drummer Which was a huge relief to the first conductor James Henry Hazlett.
Not that his musicians appeared to learn lot of tunes in those early days. In fact whey they guested at the opening of Lower Ballinderry Orange Hall in 1910 they knew only three tunes and had to play them over and over.
By the time 1938 arrived Roses Lane End; was entering band contests and came away. from the Ulster Hall in Belfast with a first prize that year. The band won another top competition at Portadown 10 years later. And then, in 1999, 2000 and 2001 it pulled off a remarkable hat-trick by carrying of the junior Irish Championship in each of those three years.
Stormont reception marks centenary of Roses Lane Ends Flute Band
Roses Lane Ends Temperance Flute Band Centenary celebrations continued on Friday 12th December when Lagan Valley MP Jeffrey Donaldson hosted a reception in The Great Hall, Stormont. The dance and buffet supper follows on from other successful events during the year including - Civic Reception in the Mayorís Parlour in May, hosted by the then Mayor, Councillor James Tinsley; Band Parade and Praise and Thanksgiving Service in Ballinderry Parish Church in June; Variety Concert in Maghaberry Orange Hall in September; and a Dinner Dance in lower Maze Community Hall in November.

Welcoming band members and guests to Parliament Buildings, Mr Donaldson said that it was a tremendous achievement for a band to reach its centenary and that he was delighted to have them as his guests. Giving a brief history of the band and their many achievements, he spoke of the vision of the members in founding the band and how under the leadership of James Henry Haslett, the first conductor, they met for practice in Ballymacraven School until the present hall was built in 1912.

The band entertained invited guests to a great selection of popular tunes and after a delightful buffet supper, band members and friends danced the night away to the music of Class Act, from Portadown.
Roses Lane Ends Temperance Flute Band pictured at Stormont. L to R: (front row) Mark Ross, Kenneth Totten, John Stewart, Reuben Hanna and Gregg Hanna. (second row) David Steele, Roy Wilson (Secretary), Lagan Valley MP Jeffrey Donaldson, Alwyn Totten (Conductor), Sandy Wilson (Chairman) and Gary Shields. (back row) Zoe Montgomery, Carolyn Hunter, Alison Walker, Nicola Hull, Gareth Murray, Adam Higginson, David Cummins, Allen Yarr and Nigel Wilkinson.
Band members Alwyn Totten (Conductor) and Sandy Wilson (Band Chairman) pictured with Lagan Valley MP Jeffrey Donaldson, Vivien McCullough and Alison Bell.
Roy Wilson (Band Secretary) pictured with his wife Shirley, brother Mervyn and sister-in-law Elsie.
Lagan Valley MP Jeffrey Donaldson and his PR Officer Susan Kyle (left) pictured with event organiser David Steele, his wife Gillian, children Leah and Lucy and (back row) Gareth Murray and Trevor Doyle.
L to R: Patricia Yarr, Rosemary Hunter, Iris Andrews, Lagan Valley MP Jeffrey Donaldson, Carolyn Hunter and Allen Yarr. (back row) Jackie Hunter, Billy Mairs and Jim Yarr.
Lagan Valley MP Jeffrey Donaldson pictured with youngest band members Jordan, Gregg and Reuben Hanna. Included are Aimee Consiglia and May Waksow (right) and Annie Phillips, Karen Hanna and Wesley Hanna (back row).
Base drummer John Stewart pictured with his wife Marianne, parents Kathleen and Irvine and Lagan Valley MP Jeffrey.
L to R: Thomas and Janet Grant, Trevor and Wendy Montgomery, Sydney and Sandra McGown, Lagan Valley MP Jeffrey Donaldson, Randal and June Stewart, Ronnie McCord, Pat Fulton, Raymond and Pearl McKee, Susan McCord and Billy Fulton.
Trevor and Wendy Montgomery, Lagan Valley MP Jeffrey Donaldson and Thomas and Janet Grant.
Ronnie and Edna Purdy and Raymond and Sylvia Ingram.
Band members Carolyn Hunter, Alison Walker, Nicola Hull and Zoe Montgomery out of uniform and looking chic for the evening dance and buffet supper.
Sandy Wilson, David Steele and David Cummins.

L to R: (front row) Margaret Cummins, Alison Cummins, Patricia Ross and Lyndsay Murray. (back row) David Cummins, Mark Ross, Alan Ross and Colin Ross.
David and Gillian Steele and family pictured with Gillianís intricate cross-stitched picture.
Band member Nigel Wilkinson and his girlfriend Jill Smith.
Reuben Hanna, one of the youngest band members pictured with his girlfriend Aimee Consiglia.
L to R: Mervyn and Elsie Wilson, Ronnie and Edna Purdy, Raymond and Sylvia Ingram, Sam and Christine McConnell, Isaac and Heather Tinsley, Alan and Patricia Ross and Lewis Thompson.
Sam McConnell (fourth from left in back row) is the son of the late Lord Brian McConnell.
L to R: Sydney and Sandra McGown, John and Caroline Greer, Desi and Linda Hamilton, Nigel Wilkinson and Jill Smith, Gareth Murray and Christina Stewart, Nigel and Julie Grant, Edmond and Doreen Irvine and Richard Caddoo.