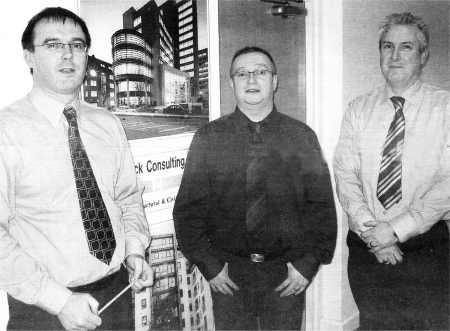 The team from an Black Consulting Ltd who designed the Ramada Encore Hotel Milton Keynes are: (I-r) Director David Crowe, Associate Director Jeff Alderdice and Ian Black. US0908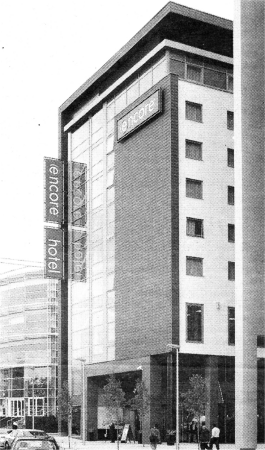 The Ramada Encore Hotel Milton Keynes, which was designed by local structural and civil engineering company Ian Black Consulting Ltd.
A LISBURN structural and civil engineering company was delighted to be given the Royal seal of approval on one of their buildings recently when the Queen and the Duke of Edinburgh officially opened the Ramada Encore Hotel Milton Keynes.
Ian Black Consulting Ltd were closely involved in building the hotel which was officially opened as part of the prestigious new 'thehub:mk', a development of offices, hotels, retail, cafes, bars/restaurants and apartments in the heart of Milton Keynes.
Working on behalf of McAleer & Rushe, the state M the art structure comprising both the Ramada Hotel and a selection of high quality retail units was designed by Ian Black Consulting using the latest software and modelling techniques to produce a prestigious building delivered on budget and on programme.
Established in 2003 by its directors Ian Black, David Crowe and Sonia Black the company, which is based in Market Place, has created a centre of engineering excellence.
The Ramada Hotel was singled out for recognition during the first Royal Visit to Milton Keynes in 15 years.
Director David Crowe said: "It was a great privilege to work on such a prestigious landmark project forming part of a significant new trade centre within the rapidly developing city, and proves that the engineering excellence on which we pride and commit ourselves, enables us to readily compete and excel against other multi-national companies."