by JULIE ANN SPENCE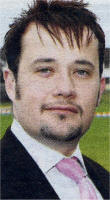 THE Royal Ulster Agricultural Society (RUAS) has confirmed that it wants to move from its Balmoral base and that the Maze is its preferred destination.
The RUAS said it would make a final decision on the move if a plan to build 140 houses on the south Belfast site gets the go-ahead from Belfast City Council later this week.
The Planning Service has already recommended the application be approved.
If the RUAS get the green light, the sale of the site could net the Society millions of pounds, which would allow them to develop a new showground and exhibition complex away from Belfast at the site of the former Maze Prison.
They would also use some of the proceeds to refurbish the Kings Hall which would be unaffected by the move.
The Vice-Chairman of Lisburn City Council's Leisure Services Committee, Councillor David Archer, welcomed the news. And said he hoped such a move would boost the chances of the proposed National Stadium being built on the former prison site.
"I am delighted to hear the Planning Service have this week approved the redevelopment of the present home of the Royal Ulster Agriculture Society at the Balmoral showgrounds," said Mr Archer.
The sale of this land will give RUAS the necessary finances to move beside our proposed multi-sports stadium at the Maze."
MLA Edwin Poots added: "I welcome confirmation from RUAS that their interest in the Maze is not reliant on there being a National Stadium. This is a significant boost."