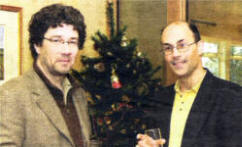 SAFER Lisburn has held an important event to consider the most effective ways of engaging young people with their community.
A film was shown regarding the issue of identity and insecurity and several effective projects were also promoted and discussed.
Discussed
Facilitated by Dr Scott Boldt, Reconciliation Officer, Edgehill College and Paul Hutchinson, Director, Imagine Spaces, participants from statutory and voluntary organisations discussed the issues of identity and insecurity and how they impact on relationships between younger people, their peers and others. Speaking at the event, Laurence Kerr, Safer Lisburn Manager said: "Participants warmly received the facilitators and greatly appreciated the opportunity to discuss simple issues, such as the need to listen to the views of younger people, through to the need to create projects that will be interesting and relevant to both younger people and the communities in which they live."