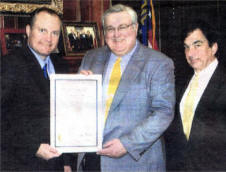 LISBURN writer and lecturer Alister McReynolds was in Atlanta recently and received a proclamation from Casey Cagle, the Lieutenant Governor of Georgia USA. The scroll declares May as 'Scots Irish' month in the State of Georgia. Also present was prominent Atlanta businessman and Scots Irish writer Bernard Gilliland.
Mr McReynolds is currently engaged in planning a joint Conference for next May on behalf of The University of Ulster Institute of Ulster Scots Studies, where he is an Honorary Research Fellow, and Georgia Southern University.
The conference will take place over a number of days in Savannah, Georgia.
Mr McReynolds is no stranger to Georgia having been the Keynote Speaker there this year at The American Conference for Irish Studies which was attended by delegates from over 55 North American, Irish and British universities.