LAURELHILL PUPIL AMASSES KARTING TROPHIES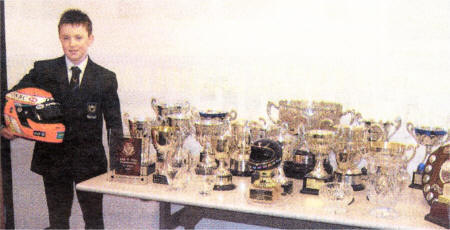 Scott Finlay with his trophies
A LAURELHILL Year Eight pupil is following in the tyre tracks of Lewis Hamilton after amassing an amazing range of trophies in the world of Karting.
Scott Finlay, who raced as a Honda Cadet in 2007, received his awards at a glittering prize distribution dinner just before New Year. These included 'Best Junior Driver for the Northern Ireland Karting Association' (NIKA), 'Best Junior Driver for the Ulster Karting Club', 'Rookie of the Year' and 'Easter Champion.
He took first and second places in the Ulster Cup and NIKA Championships respectively and also won the All Ireland Golden Helmet Championship. This involves races on tracks in both Northern Ireland and the Republic.
Local 'plate' meetings proved no problem either as Scott took the K (Kirkistown), 0 (Open), B (Bishopscourt) and GP (Grand Prix) Plates. Nor was his success restricted to one side of the Irish Sea as he competed in some races in Scotland and took the Scottish Open Title. Scott also received a fantastic silver rose bowl valued at £3,000 after putting in a superb performance at a special race organised by the Coleraine and District Club in August. The purpose of the bowl was to provide a prize for the winner of any class at the event which the Club felt produced the best racing.
A spokesperson for Laurelhill said Scott received the trophy as the race he won at the meeting was 'a fantastically hard fought class' which he 'dominated'.
The spokesperson also said staff and pupils wished to congratulate Scott on his success.