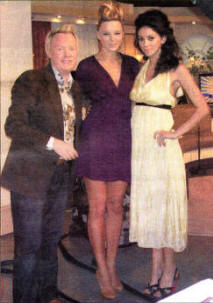 HILLSBOROUGH'S award-winning hair stylist, Shane Bennett, appeared on TV3's popular breakfast programme, Ireland AM last Monday to recreate some of the glitz of the 'Oscars.'

Following the screening of the Annual Academy Awards in Los Angeles, Shane was invited to capture some of the red carpet hair creations using two locally based models: "It was difficult having to choose two hairstyles as there were so many fabulous styles to choose from.

"However, there were two ladies who stood out for me; Heidi Klum and Penelope Cruz. The model and actress looked stunning in John Galliano haute couture and Chanel couture respectively, so they had to ensure their hair looked equally as exquisite.

"For Ireland AM I replicated Heidi's alternative to a bun on Miss Ireland, Sarah Morrissey. The hair was swept up to the crown and shaped into an elegant bun high on the back of the head. "To create the style Penelope Cruz had chosen, I used large waved tongs on model Georgia Salpa's hair. The curled hair was then pinned up to let it cool, before letting it down and smoothing out the big soft curls to create a stylish do fit for the red carpet."

After appearing on Ireland AM, Shane jetted off to London to officially launch Vidal Sassoon's 2008 Spring collection to over 100 international hairdressers.