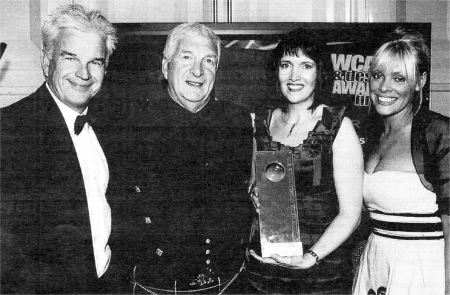 Des Clayton (Knox Clayton), Tommy Anderson (Lagan Valley Steels), architect Alison Brown of Knox & Clayton Architects and Emma-Louise Johnston Host of the Showcase Awards
A LEADING Lisburn firm of architects has scooped its fourth major award in as many months for the distinctive design of a new college campus.
Knox & Clayton of Lisburn picked up the External Finish Award for its work on the Orchard Building at Stranmillis University College in the prestigious annual Design and Build Showcase Awards ceremony in Belfast last week. The high standard of work by the Lisburn firm was recognised in five categories for which a number of its major projects were short listed.
Knox & Clayton were pleased to work with Belfast-based Scott Wilson Architects on the multi-award winning Orchard Building project.
Commenting on this latest accolade, senior partner Ernie Knox said: "To be finalists in five categories and winners of one of the top awards was very satisfying for the practice and a tremendous recognition of our emphasis on design."
The Showcase Awards, sponsored by Specify magazine, were attended by leading figures in the construction industry across Northern Ireland.
Just last month the Orchard Building picked up the Wood NI Award, plus a commendation in the "Over £3million" category in the prestigious 2008, Royal Society of Ulster Architects Design Awards.
A few weeks earlier the scheme received the first ever Sustainable Planning Award in Northern Ireland in a competition organised by the Royal Town Planning Institute NI branch and the RSPB.
Tommy Anderson, MD of Lagan Valley Steels (one of the sponsors) commented: "Lagan Valley Steels are very impressed with the quality of the finalists and winners at the inaugural Showcase Awards.
"I was delighted to be involved in such an innovative event and hope that it will be the first of many. The Showcase Awards have high-lighted an area that previously has not had its creative potential fully recognised. "These superb companies are vital not only the industry but also for the ongoing rejuvenation of Northern Ireland. Now everyone can see how they are challenging world construction and punching above their weight."