by JULIE ANNE SPENCE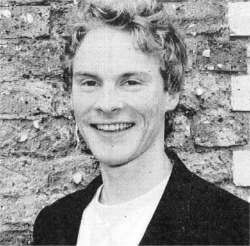 LISBURN man Tim Taggart is in the running to be a presenter on breakfast television.
Tim is one of the finalists in the GMTV 'Sofa Factor' contest, an opportunity to present on the famous red sofa.
The lucky winner will host the 'Pick of the Day' slot before being whisked to Las Vegas, where they will receive an A-list make-over and present a showbiz report for the breakfast TV show.
After sifting through the hopefuls, judges Mel Sykes, Richard Arnold and Melanie Cantor, this week introduced the finalists - among them Tim.
"I am absolutely thrilled and more and more excited nudging closer to the chance of presenting on GMTV live from Las Vegas," said Tim.
"When I heard about the talent search last week, I grabbed my camcorder and together with the help of a makeshift camera crew put together a short audition clip of me out and about presenting.
"Four days later I got a message from the producers, asking me to come to London. From 5,000 hopeful entries, the top 20 had been chosen for auditions - and I was one of them.
"We started the day with Sally Gray who gave us some excellent coaching on the dos and don'ts of presenting. Then we were introduced to the judges who chose me and nine other finalists to appear live on GMTV the next morning. "It was an amazing feeling to be picked to appear live on prime-time morning TV. I'm taking on each of the challenges with a mixture of excitement, nerves and confidence, hoping that I make it through to the final live vote next Thursday."
Tim is no stranger to the small screen. "I first had the chance to step in front of the camera after winning the MSN Movies 'Lights Camera Audition' search for a presenter," he explained.
"I presented daily movie reviews and news for two weeks over the summer. More recently I have had the opportunity to see what it's like to be on the other side of the camera working on the production teams for programmes such as Ready Steady Cook and Big Brother has been amazing, but I'm delighted for this opportunity as I've always wanted to be a presenter. With the final decision down to viewers, tune in on Friday May 2 to find out who if Tim has the 'Sofa Factor'.