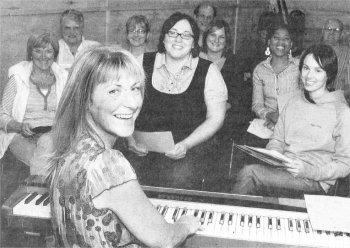 HILDEN was filled with the sound of music on Monday evening when the new Fresh Oil Singing Circle raised their voices in song.
The new group, which meets every other Monday, is the brainchild of Sheila Smyth, a local musician and pastor.
Sheila founded the Fresh Oil Church, Fresh Oil Music and cofounded One-Achord Music Promotions and always had the dream of establishing a local singing circle for people who just loved to sing.
The singing circle is in its fourth week and is proving to be a great success. The circle perform every genre of music, from Ulster Scots ballads and songs from the musicals to contemporary modern and sacred, worship songs.
In essence the Fresh Oil Singing Circle is full of fun and friendship, tied together with a lot of song.
The Fresh Oil Singing Circle meets every other Monday from 7.30pm until 9pm at 1 Linen Court, Hilden and there is a £3 donation to cover costs.
New members are always welcome to come along and join the fun. 1 Linen Court is also a teaching venue for piano, guitar, drums and vocal training. Sharon Brown assists the singing circle and is a trained voice tutor for anyone who would like personal tuition.
For further information on the Fresh Oil Singing Circle or to find out about music lessons, contact Sheila Smyth on 07949418408. For more information on Fresh Oil, contact www.myspace.com/freshoilmusic.

julieann.spence@jpress.co.uk

12/08/2008