Sam McCausland and brother Callum with event organisers Paul McGuire and Wes Kettyle.
Participants in the Spin for S.A.M.
Sam McCausland with brother Callum, Mum and Dad and participants in the sponsored spin.
HILLSBOROUGH toddler Sam McCausland who suffers from the devastating condition Muscular Dystrophy was at the Queens University Physical Education Centre recently for a sponsored spin which raised more than £5000 to help fund research into the disease.
Over 300 keep-fit enthusiasts saddled up to raise money for the charity 'Struggle Against Muscular Dystrophy' (SAM) last Friday.
The event was organised by Gordon Crockard of World Motorcross fame along with European Enduro rider and Paris-Dakar competitor Paul McGuire.
Participants in the 12 hour Sponsored Spin were in the saddle for a minimum of one hour with a number of people signing up for the full 12 hours. "We are both delighted that we were able to raise over £5000 pounds for the charity while at the same time help raise the profile of the 'Please Fix Sam' campaign," said Paul.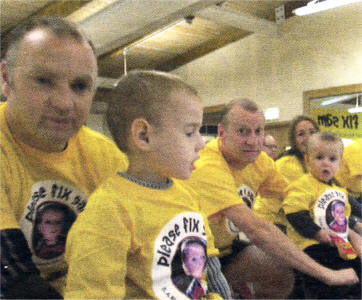 Participants in the Spin for S.A.M.