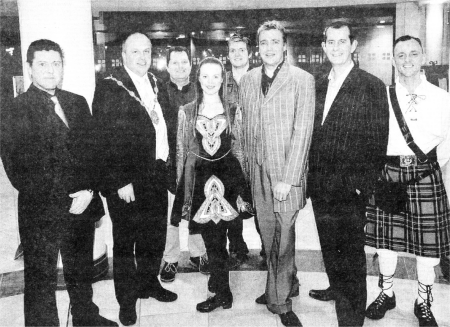 Performers at the 'Ulster-Scots meet St Patrick' evening with the Mayor, Cllr James Tinsley and Minister of Culture, Arts and Leisure,
Ald. Edwin Poots. Pictured (l-r) are: conductor, Brian Welsh from the Hounds of Ulster; Colin Slaine, Stonewall; Stephanie Gwynne, Bentra School of Irish Dancing; Andrew Cornett, Stonewall; compere Gareth Fulton and Alan Hollywood, Hounds of Ulster.
THE Mayor of Lisburn, CIIr James Tinsley, hosted an evening of music and dance on St. Patrick's day, which brought together the local talents of Drumlough Pipe Band, the flutes and drums of the Hounds of Ulster, musical trio Stonewall, traditional Scottish folk group Canterach and the Bentra School of Irish Dancing.
The evening, Chemed 'Ulster-Scots meet St Patrick' at Lagan Valley Island, thrilled the audience with an array of enchanting entertainment. The Mayor, Cllr Tinsley said: "This concert was an excellent opportunity for local talent to unite and display their magnificent skills under the same roof. The costumes, music and dance made the evening
a truly unique experience. What makes the evening more special is knowing that all proceeds from the concert will go to the Make-A-Wish Foundation charity."
The St. Patrick's Day event was organised by Lisburn City Council as part of the Good Relations Programme and in association with the Ulster-Scots Agency.