MAN TO TRAVEL TO CHINA FOR HELP IN FIGHTING MOTOR NEURONE DISEASE
by MARY MAGEE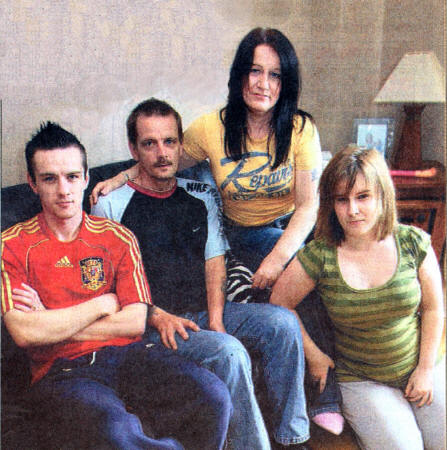 Alan Stitt of Ballinderry who suffers from Motor Neurone Disease pictured with his wife Barbara, son Graham and daughter Samantha. US2708-114A0 Picture By: Aidan O'Reilly
A BALLINDERRY man is planning to travel to China to undergo controversial stem cell treatment which he hopes will help slow down the affects of the potentially fatal condition Motor Neurone Disease.
Alan Stitt from Ashcroft Way, who was diagnosed in March, plans to fly out to China - one of the few countries that offers the treatment - in an effort to get a better quality of life.
He knows it is unlikely the treatment will cure him - but he hopes it will ease the symptoms connected with the crippling condition that affects the nervous system. There are currently only 95 people in Northern Ireland who suffer from the condition. Alan's family have rallied round and are working to raise the £10,000 needed to give him 20 days of treatment in a Beijing hospital.
The 43-year-old former amateur footballer first realised he was ill last July. He lost his balance and was unable to save himself as he fell, injuring his back. Within weeks he found walking difficult and as his condition gradually worsened he went to see his GP.
He ended up at the City Hospital where he underwent a series of simple tests which made him fall and was then referred to the Royal.
By now Alan, who was a self employed kitchen fitter, had to leave work because he broke his wrist as his condition worsened.
He realised the seriousness of his condition when a nurse at the Royal rang and told him to be at the hospital in an hour.
He was there a week during which further tests and an MRI scan were carried out. At the end he was given the news that changed his life.
"I had not been to the doctor's in the past 20 years," he said. When I went to the GP I asked for a doctor who had left ten years ago and another who was away 15 years ago -that's how often I went to the doctor!
When I was told that I had Motor Neurone Disease I was shocked. I had not even heard of the condition and I didn't know anyone who has the condition." Immediately his family rallied round, determined to do anything they can to help him.
Stem cell treatment could give me back a quality of life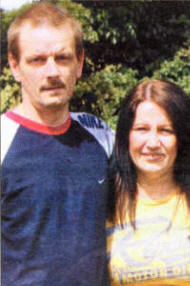 A relative discovered the stem cell treatment in a magazine article. His wife Barbara, his uncle and sister Sandra checked the internet for information and made plans for Alan to go to China
Alan said: "I don't know how long the treatment will last, whether it will be a month or a year, but at least it gives me hope. I went to a Chinese herbalist who believes I may have got this through a virus which has spread throughout my body."
Alan continued: "I have been told not to sit about and go out as much as I can. The cold affects my muscles but I do try and get out... to wash the car or whatever.
"I have spoken to many people who are quite positive about the treatment. Even doctors have said that if I think it will help me then I should give it a go. If I, don't at least try something my condition will just get worse and worse."
His sister Sandra Walsh says she hopes the treatment will offer Alan a better quality of life.
"We are prepared to do whatever we can," she said. "We have read blogs from people who have had the treatment and its all very positive. The treatment apparently gives you a boost but we have been warned that it helps just 8 out of ten people. However you do not know until you try." A number of fundraising events at Dawsons pub in Aghalee and the First Blues have have so far raised £5,300.
Family say thanks for help
ALAN'S family would like to thank all those who have helped in anyway with their fundraising efforts. The would like to specially thank Jim McFarland, Karen and Jeff Brown and Alex Agnew. They would also like to thank staff of Dawsons Bar and Crispy Cod in Ballinderry and everyone else who has kindly donated money.
The family say that every penny counts and they very much appreciate it.