Former Wallace pupil wins place in semis
by STACEY HEANEY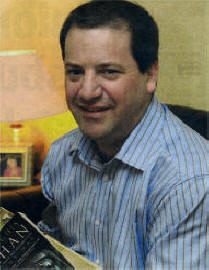 LOCAL man Stuart McDonald proved to be a real Mastermind when he reached the semi finals of the iconic show last Friday night.
Stuart, a GP in Portadown who is a former pupil of Wallace High School, sailed through with 14 points from his specialist subject of Genghis Khan and finishing with a fantastic score of 26 after the general knowledge round.
What made the show even more remarkable was that another former Wallace pupil, Karl Byrne, was in the same show. Dromara man Karl, a PhD student at Queen's, came second. Stuart, who lives in Hillsborough, decided to audition for the show after hearing on the radio that auditions were taking place in Belfast the next day.
"I was driving home when I heard about the auditions and it was a spur of the moment thing to go. I was pretty much the last person to be seen that day."
Stuart continued: "I was sure I hadn't done well enough. I enjoyed the audition and was glad that at least I'd had a go but a producer phoned me a week later and said I had got through to the show. It was an absolute shock, I think I laughed for ten minutes."
Stuart's toughest task lay ahead as he studied for his specialist subject.
"I went to the audition with no specialist subject. They asked me 20 general knowledge questions and about myself and then what my specialist subject would be. They got a bit grumpy when I said I didn't have one so I had to make three up on the spot. I went through a few topics which were already taken and it happened that I had recently read a novel about Genghis Khan so I chose that. I had no knowledge at all on Genghis Khan so I had to start from scratch.
"It was a few days later that the realisation hit me that I didn't know anything. I assumed I would crumble and it was my aim not to come last."
Stuart said he "totally surprised" himself at how well he did as he booked a place in the semis.
"I was first up so I had very little chance to get nervous," he said. "When the two minutes were up and I had 14 points I knew that was a reasonable score and that I had a chance."
Describing his experience in the famous Mastermind chair, Stuart said: "It's not particularly comfortable. There is just a light on you and John Humphreys and you can't see anything else. There is a highened state of awareness when you are there, time passes quite slowly and the questions seem to go on forever. Fortunately the questions suited me so it was easy to enjoy the experience of being in that black chair, but it's not such fun when you're not getting the questions right. "I had a fantastic experience. I wanted to see if I could get on the show so winning the heat was way beyond what I expected."
Stuart will be seen again when his semi final is broadcast in April 2009.