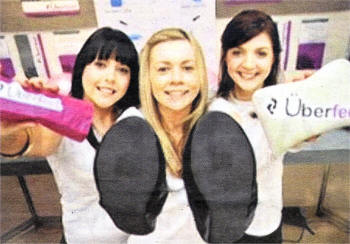 A LISBURN girl has taken top prize with her team mates at the Student Enterprise Awards, Ireland's premier higher education business enterprise showcase.
Ciara Jordan, 22, a graduate from the University of Ulster, Aisling O'Neill, Lisa Donnell and Amanda Nesbitt beat off competition from hundreds of third level students across Ireland with their business proposal Uberfeet, scooping the £8,000 prize and title of College Entrepreneurs of the Year.
The Student Enterprise Awards — held this year in Cork — are Ireland's largest and most prestigious student enterprise competition boasting a total prize fund of £50,000.
Uberfeet is a new product designed to help women have a comfortable journey after wearing painful shoes. It is sold in a package comprising of a pair of light-weight disposable shoes with a re-usable bag to carry the work shoes in.
The product is unique due to its inexpensive, disposable aspect.
Ciara said; " We were really shocked when we won the award. It was such a surprise for us."
The Uberfeet team will be taking advice on how to move their project forward, Ciara said: "Cruickshank Intellectual Property Attorneys have added the prize of a consultancy service to the value of up to 20,000 for all the winners to aid the students to patent and protect the intellectual property arising from their projects."
The Uberfeet team has already received an expression of interest from firms interested in commercialising their product idea, said Ciara.
The Department of Business, Retail and Financial Services at the University of Ulster is delighted with the success of 'Uberfeet team.
"We could not be more proud of the girls, they are exceptional students who are passionate about their product and work well together as a team," said Fred Scharf, Module Coordinator.
"We knew that if they made it through to the presentation stage, that the judges would be impressed," he said. " 'Uberfeet' had already won the Department's 'Business Start' competition, but this is the first time that we have entered a team in the All Ireland awards -and to win it at our first attempt was beyond our wildest dreams", added lecturer Chris McLean.