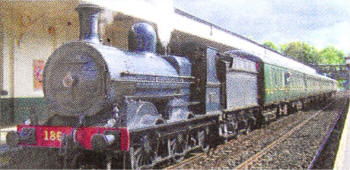 AT one time Lisburn people looked forward to boarding summer excursion trains to the seaside with as much excitement as today's travellers anticipate boarding their flights to the sun.
The steam hauled specials left the line to the terminus in Great Victoria Street just after Adelaide and used the railway which now leads to Belfast Central to join the tracks between Queens Quay Station and Bangor.
Anticipation grew as the engines steamed through Holywood and Cultra eventually giving passengers a splendid view of the North Channel while passing Carnalea during the final stage of the trip.
Next month the Railway Preservation Society of Ireland will offer an opportunity to relive a time when a day out by the sea brought such pleasure.
Two return 'Bangor Belle' specials will recreate those days of simpler pleasures when they travel from Lisburn to the seaside town and back on Sunday August 24.
Each train will offer passengers travel in lovingly restored carriages, the opportunity for children (and the more nostalgic adults) to get close to the steam engine and talk to the driver and fireman during the relaxing journey through the North Down countryside. RPSI Operations Officer Mervyn Darragh commented: "Lisburn was a busy junction station and maintains a lot of its historic charm - a great starting point for a trip back in time."
RPSI Chairman Johnny Glendinning said: "A steam train just oozes atmosphere and we would especially appreciate the public sending us drawings, notes or poems about their day out on the steam train for posting on our website."
Tickets for the August 24 'Bangor Belle' steam trains cost �10 for adults and �7 for children under 16 years old and OAP's. They are available by telephone (9024 6609): call-and-collect from The Belfast Welcome Centre, Donegal' Place, Belfast City Centre or online from www.steamtrainsireland.com. Advance booking is essential