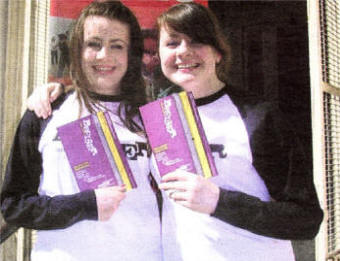 BUDDING young Lisburn thespians, Niamh and Nuala McGowan were chosen from hundreds of hopefuls to take part in a prestigious theatre summer school at the Old Museum Arts Centre in Belfast. The 18-year-old twins who have just completed A-levels at St Dominics High School, successfully auditioned for places in the Bruiser Summer School, winning out to stiff competition from across the country.
The pair have been taking part in the intensive ten-day course which ended recently with a spectacular show where the students performed before a packed audience at OMAC.
For Nuala the event was a double celebration, as she has been offered a place at Mountview Theatre School, London.
She said: "I've always like Bruiser's shows and Lisa May and Ross Anderson are amazing. It is all collaborative, they take on our ideas and everyone works together - it's a very good team."
Speaking about her move to London she added: "It's scary hut it is also exciting. I did a lot of musical theatre but I would like to do a lot more straight acting and this will give me that opportunity. I would like to make a good career out of acting."
Niamh said she was having "a great week.
"It is very intense, this is my first time working with Bruiser, but everyone works very well as a team. Anyone who enjoys the theatre should go along to Bruiser, it is the whole essence of theatre."
Niamh, who will be auditioning throughout the year to study theatre in London, will be kept busy in the coming months with a role in Fusion Theatre's production of Les Miserables and The Ulster Operatic Company's production of West Side Story at the Opera House in October.