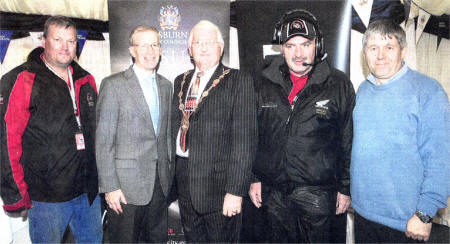 Pictured at the Ulster Grand Prix before it was called off due to torrential rain, were (1-11 Eric Oliver , Chairman of Dundrod and District Motorcycle Club, Gregory Campbell, Minister for Culture, Arts and Leisure, Mayor of Lisburn, Councillor Ronnie Crawford, Noel Johnston, Clerk of the Course, and Councillor Brian Heading, Chairman of the Leisure Services.
REPRESENTATIVES of Lisburn City Council have held talks with the Dundrod and District Motorcycle Club about the future of the Ulster Grand Prix at Dundrod after this year's event was abandoned on Saturday because of the torrential rain.
| | | |
| --- | --- | --- |
| | | |
| Top road racer John McGuinness gives the bad weather the thumbs down in the Ulster Grand Prix paddock. | This bike fan was unconcerned about the bad weather which led to the Ulster Grand Prix being cancelled. | Bikers make their way through the flooded roads at Dundrod. |
It's the second year running the UGP has been affected by rain. While last year two of the six races could take place, by 2pm on Saturday it was clear the organisers would have no choice but to call off the whole event.
And it has left the Dundrod club with heavy financial losses.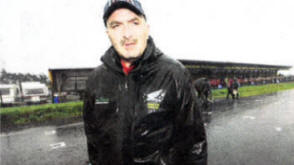 Clerk of the Course Noel Johnston stands on the deserted race grid at Dundrod.
Clerk of the Course Noel Johnston said: "We have 52 weeks to get things sorted out for 2009. We certainly will not be giving up without a fight."
Mr Johnston said he was hopeful that with help the Dundrod Club could turn around the disappointment of Saturday.
"We were down in the dumps on Saturday, but it is a new day and we are upbeat again. We met with Lisburn Council on Monday and between us drafted a letter which we will present to the Department of Culture Arts and Leisure to see if we can get some compensation.
"We rely heavily on programme sales for income to run the event and although we are grateful to those who bought programmes during the week we sold next to nothing on race day, which is understandable. We did everything in our power to get the race changed to Sunday, but legislation did not allow it.
"We have to work now to try and get some leeway, which would let us, if the weather forecast was like this year, run on say the Friday or the Sunday. It's only a matter of time before it happens to the NW200. Then what? We need a change before that happens." Lisburn's Mayor, Councillor Ronnie Crawford, said: "It is extremely disappointing for the Club, the Council and the motorcycling fraternity."
"The Ulster Grand Prix is a major event in the Northern Ireland Racing calendar, and is renowned for being the fastest motorcycle road race in the UK. "The race is close to our hearts and we will do everything that we can to assist Dundrod and District Motorcycle Club to ensure the race's survival on the Dundrod Circuit" he said.