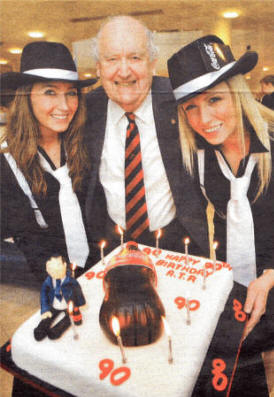 ONE of the men behind the success of Coca-Cola in Northern Ireland has been honoured on his 90th birthday. Coca-Cola Bottlers (Ulster) Ltd hosted the celebration recently to mark the work and contribution of Terence Robinson, Non-Executive Director of the Lisburn bottling company.
Son of Tom Robinson, who introduced Coca-Cola to Northern Ireland in 1939, Terence has a long history with the local soft-drinks company. His legacy with Coca-Cola began when he returned from World War II to become an influential driving force behind the family's business and remained at the helm of the company for some 50 years, until his retirement in 1989.
Terence has held the posts of Managing Director, Executive Chairman and more recently Non-Executive Director of Coca-Cola Bottlers (Ulster) Ltd., - a role which involves him contributing to the company's community investment programme.

Mr Robinson said said he was delighted to be present with his family, friends and Coca-Cola colleagues to celebrate his 90th birthday.
"The company has been an integral part of my life since I first started selling Coca-Cola to hotels around Belfast from the back of an icebox fitted moped during the 1940's" he recalled. "I'm very proud of the unrivalled and worldwide reputation that Coca-Cola Bottlers in Lisburn has worked hard to achieve and I'm looking forward to watching it progress and grow at the new site at Knockmore Hill."
John Barrett, Executive Director at Coca-Cola Bottlers (Ulster) Ltd., presented Mr Robinson with a commemorative bowl to mark the milestone occasion and to acknowledge his continued long-standing service to the company and local community.
Lisburn's Mayor, Councillor James Tinsley, was among the speakers who also highlighted the contribution that Mr Robinson has made to local people in Lisburn and across Northern Ireland. He praised his "generous investment and services to a variety of charities and community initiatives."