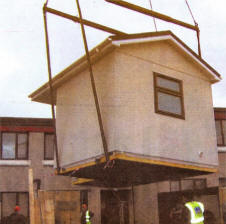 A REVOLUTIONARY new housing extension has been delivered to a tenant in the Hillhall estate.
Glen Moore, who is unable to use his upstairs bathroom, took delivery of a 'Pod' - a pre-built room that attaches on to the rear of an existing house.
The 'Pod', which in this case is a fully equipped bathroom with a shower, wash hand basin and toilet, was delivered by lorry and lowered into position by crane and in less than an hour it was attached to Mr. Moore's home.
This is the third Pod to be installed to Housing Executive homes, and Mary McKeown, the Housing Executive's architect on the POD project, commented: "We have previously installed Pods to homes in Belfast and Bangor and we are delighted with the success of this project already. "
She continued, The Pod can be either a bathroom or a bedroom and bathroom. While the Pod is being made in a factory, the contractor prepares the site in preparation for the Pod to be dropped into place. The Pod is connected to the home and in a few days it looks as if it had always been there."
Speaking on behalf of her husband, Joanne Moore said: "My husband has been unable to use the upstairs bathroom, so we were delighted when the Housing Executive decided to try out this new system at our home.
"This new bathroom will be of real help to Glen and the family. However, it is more than just a bathroom - it is a means to ensure that he can live a more normal life without having to rely so much on other people. We can't thank the Housing Executive enough for all the help they have given us."