US pals spend special week in Hillsborough for 20th reunion
by STACEY HEANEY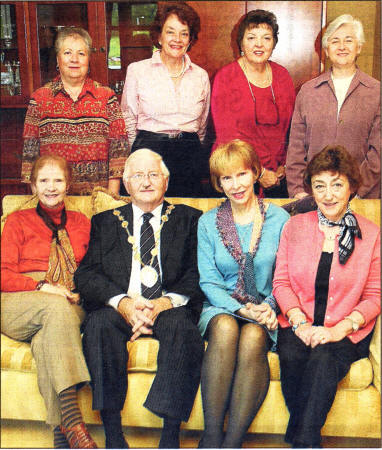 A GROUP of life-long friends paid a special visit to Lisburn last month as they joined together to celebrate the 20th Anniversary of their yearly reunions.
The 'Sottile Girls', a group of friends from the College of Charleston in South Carolina, USA, began their yearly ritual in 1988, and have spent a week of each year since that meeting in various locations across the USA.
This year, however, they decided to spend time with one member of the group, Lorna Sawyer, an adopted Sottile Girl', in her Hillsborough home.
The girls - Ruth Anderson, Rachel Bowling, Peggy Bridges, Judith Lamond, Sarah Gainey and Franta Broulik, visited a variety of sites around the country, including the Ulster American Folk Park, the Giants Causeway, Belfast - where they met the US Consul General Susan Elliott, and the Mourne Mountains and Silent Valley.
They also made sure they stopped off for a day in Lisburn where they spent the morning in the Mayor's Parlour with Mayor, Councillor Ronnie Crawford.
Despite the demands of careers, husbands and children, the ladies make sure they set aside one week of every year to meet up with each other in a different location, where they can be "girls again."
They explained: "We are all college chums from the College of Charleston, South Carolina. We lived in a Victorian Mansion, which was the girls' dormitory, from 1962-1969. It was called Sottile House which is why we are known as the Sottile Girls."
Lorna commented: "I was a young bride when I moved there with my husband, who was a professor at the College, and I met Rachel when I was first there."
Rachel added: "I was working there after graduation and we became firm friends and we still are 38 years later."
Their first annual gathering was in Sidle, Louisiana, near New Orleans. The fun-loving ladies explained: "We painted the town red. We were the first hurricane to hit New Orleans!"
They added: "Every year we leave our families and our jobs behind and be girls again, there is one week set in stone that we have to ourselves with no responsibilities." The visit to Lisburn proved to be a special one as they visited the Island Civic Centre, the Linen Museum and boosted the local economy with plenty of shopping. "We love Lisburn,' Rachel commented, "and we love Northern Ireland, there's such a good atmosphere."
"Lisburn is vibrant, it has such beautiful store fronts. The flowers are gorgeous, the triple baskets along the streets are beautiful," said Peggy.
Whilst Franta added, "The friendliness of the people and their sense of humour is fantastic, they have a wonderful wit, it's just so like a pixie or a leprechaun!"
The ladies spent a week of sightseeing, shopping and catching up with one another during their time in Hillsborough, and vowed to return to Northern Ireland on another of their annual reunions. "We will definitely be back again to see all the things that we have missed. The moment we saw the country from the air we were enchanted with it, you can't do justice to the North in a week," they concluded
ABOVE: The group of friends celebrated their 20th reunion with a special visit to the Mayor's Parlour recently. From left to right are: Back row: Ruth Anderson, Rachel Bowling, Judith Lamonde and Peggy Bridges. Front row: Sarah L. Gainey, Lisburn Mayor, Councillor Ronnie Crawford, Franta Broulik and Lorna Sawyer. US3908- 127A0