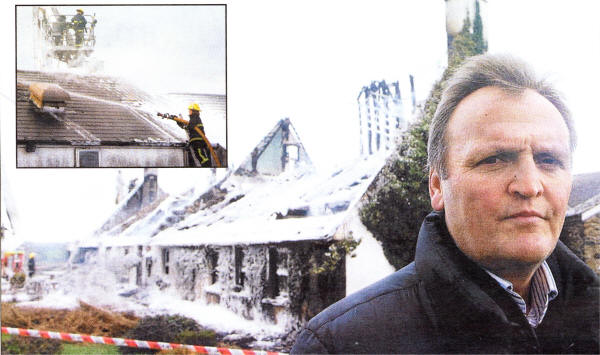 Owner of the Tidy Dotter Gerry Martin outside the remains of the popular bar and restaurant. US1008-103A0
THE leaseholder of The Tidy Doffer says he is uncertain what the future holds for the gastropub at Ravarnet which was devastated in a blaze last Thursday.
Gerry Martin, who was at home in Hillsborough when he got a call at lunch time from staff telling him a fire had started, said he was 'relieved that nobody had been hurt' after the blaze broke out in the restaurant area one of Ireland's largest thatched buildings.
"That is the most important thing. Two customers and about six staff had to be evacuated" Mr Martin said.
"1 have to praise the absolutely superb work of the Fire Crews who came from all over Northern Ireland. The staff must also be praised too."
It is thought a spark from an open fire started the blaze which was brought under control by fire crews using a special foam.
Speaking on the future of the well-known establishment Mr Martin said he is 'uncertain' what will happen.
"I would love to get it up and running as soon as possible but it is out of my hands because first of all I don't own the property and secondly there are insurance procedures to go through.
"Obviously we're uncertain about staff and what's going to happen in that respect, and I have no experience in this type of thing, so I don't know myself at this stage.
"I am hoping and assuming it will be rebuilt."
Mr Martin explained that he didn't think the fire would be as bad as it was.
"I was shocked when I was only half way up the road and I saw raging flames. My heart sank." At the height of the blaze a total of 10 fire appliances attended the scene. Regular pumping appliances and three specialist
Fire Units including a water tanker, a high rise aerial appliance and the Command Support Unit were in attendance .
An NI Fire and Rescue Service spokesperson said by the time they arrived the roof section of the bar had been destroyed but Fire Crews managed to stop it spreading to the newer part of the building.
"The new Compressed Air Foam System (CAST) was used to tackle the fire; it is a very effective method of firefighting using less water. Fire Crews remained at the scene to dampen down the building" said a spokesperson.