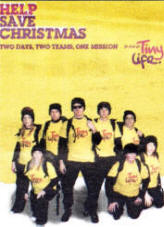 A MOIRA father is set to take part in Tinylife's Christmas challenge.
Santa's elves have gone missing and Santa believes Jack Frost is behind it. Learning of the support TinyLife offers to premature and vulnerable babies in Northern Ireland Santa has turned to them for help.
Andy Hood (Codename DONNER) is one of four team mates who have responded to Santa's call to help save the elves. Andy, dad of premature twin boys Scott and Jamie, has set aside his fatherly duties for one weekend to become a member of Team Alpha. Andy will join his team mates in competing in the 11 live challenges.Team Alpha and Team Bravo will compete in 11 live challenges consisting of innovative endurance and mental tasks.
The challenges will be streamed live online on Saturday December 20 and Sunday December 21 and viewers will have the capability to alter the teams' tasks and show support by sending them a live message of support. Viewers will also have the option to make a donation to TinyLife.
Andy said: "The fact that Santa's Elves have gone missing is a tragedy, I am confident Team Alpha will be able to crack this mystery and have the elves safely returned in time for Christmas. We will do everything in our power to ensure Team Alpha Helps TinyLife to Save Christmas."
Viewers can change the outcome of this challenge by voting for your favourite team, supporting TinyLife and doing your part to Help Save Christmas — log on to www.helpsavechristmas.com o r visit www.justgiving.com/helpsavechristmas-teambravo or www.tinylife.org.uk.