by JENNY MONROE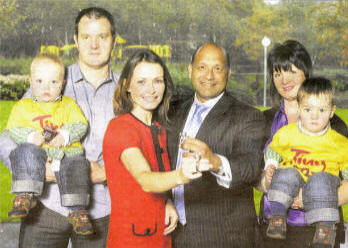 A MOIRA couple has helped launch a star-studded ball aimed at raising funds for a premature baby charity.
Parents Andrew and Julie Hood whose twin sons were born at only 27 weeks are strong supporters of Carryduff based charity TinyLife which has organised the upcoming Diamond Gala Ball at La Mon Hotel next month.
The couple's sons Scott and Jamie, now aged 22-months, spent the first 10 weeks of their lives in hospital - first at the Royal Victoria in Belfast and later at Craigavon Area Hospital. Scott scaled in at only 2lbs 9oz, while his 'younger' brother weighed 21b, 5 oz when born.
Julie Hood explained why TinyLife means so much to her: "I was introduced to TinyLife while the boys were in Craigavon hospital and the support worker assigned to me provided invaluable help during those exhausting and emotionally fraught early days, when my husband Andrew and I really didn't know what was around the next corner.
"I can honestly say TinyLife helped me get my life back and I don't know what I would have done without them."
Julie was particularly grateful for the charity's help, as over the past five years she has lost twin boys born prematurely at 19 and 22 weeks and also suffered two miscarriages."
She said: "It was obviously a very traumatic time for us all, and then when I went into premature labour again with Scott and Jamie at only 22 weeks, it was another emotional rollercoaster."
"Thankfully, with five weeks total bed rest, the boys didn't arrive until I had reached 27 weeks, which gave us hope.
"Today, they are normal, healthy, boisterous toddlers and quite a handful at times - but we are just extremely grateful they are here," she added.
Sharon Corr from The Corrs has become an official patron for the charity TinyLife. The mum of two babies said she was honoured to lend her support to the charity, whose work is very close to her heart as she experienced the anxiety of having a premature baby herself.
Dr Suresh Tharma is consultant neonatologist and director of 3fivetwo Healthcare Gold who are sponsors of the TinyLife's Diamond Gala Ball.
He said: "TinyLife provides the practical and emotional support needed by parents whose child has been born early, often with many medical needs which are frightening in any circumstances." Said Dr Tharma. " This charity will touch so many families and no one ever knows when they or their children will need this support."
The fund-raising Diamond Ball takes place on Saturday, November 8, and will be hosted by BBC presenters Jackie Fullerton and Sarah Travers,. another TinyLife patron.
Guests will enjoy a five-course meal and entertainment from The Untouchables and comedian Sean Crummey. There will also be a raffle, auction and tombola, as well as the chance to win a loose diamond in a diamond draw.