CARRYDUFF based charity has launched a new calendar in time for Christmas.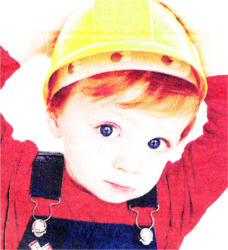 The stunning images which feature on each calendar month capture some very special faces, all of whom have called upon TinyLife's support in their young lives. The youngsters' names were chosen out of a hat from over 500 entries from families throughout Northern Ireland who rely on TinyLife for support and advice on both an emotional and practical level. has captured the inspiring spirit and character of all involved.
Venture Portraits joined forces with TinyLife, to support fundraising efforts for 2009.
Taking part in the calendar, little Ben McKinley makes his
modelling debut at the tender age of two. A natural in front of the camera, Ben and his 'little' brother Joshua were born at 33 weeks, weighing 5lbs and 3lbs, respectively. Unfortunately, Joshua passed away a short time after birth. Since then, the McKinley family have been keen supporters of TinyLife. Mother, Lisa commented: "TinyLife offer a friendly environment which has helped me immensely and this has been a great source of friendship.
"I absolutely love the idea of the calendar, it is a fantastic fundraiser for TinyLife and it reminds us all of how far these children have come". Deirdre Brady, Chief Executive of TinyLife said: "Partnering with Venture is
exciting for TinyLite. Their professional approach and ability to again capture such gorgeous images for this years calendar can only help us to beat last year's record sales. The monies raised in 2007 helped TinyLife fund research and provide both emotional and practical support to the families of premature babies. We are so grateful for Venture's support in making this happen, and look forward to working with them in the future."
The calendars cost £5, with all proceeds going to TinyLife. They are available from TinyLife Offices and Venture Studios.
For further information on TinyLife visit www.tinylife.org.uk.