Local woman wins excellence award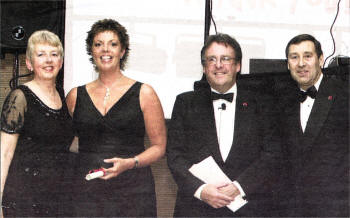 DROMORE nurse Tracy Jardine was one of only nine nurses recognised by the British Heart Foundation (BHF) for their outstanding contribution to patient care and practice.
Tracy is one of the winners of the BHF's first ever Nurse Excellence Reward which were announced at the BHF's nurse and healthcare conference at the Park Inn Heathrow a few weeks ago.
Speaking on receiving the award Tracy, who is based in the Belfast Health and Social Care Trust, said, "I find my role to be both incredibly challenging and rewarding on a daily basis. I realise that it is of utmost importance that patients and their families are provided with the medical information they need in a compassionate way, particularly when dealing with such sensitive situations.
"The aim of our service is to provide an accurate diagnosis and risk stratification for each individual. We support and encourage people to lead a normal life, helping them make changes to their lifestyle where necessary"
As one of three BHF funded Genetic Heart Nurses in the UK, Tracy's role often includes supporting families in which there has been a sudden unexplained death of a young person associated with an inherited cardiac condition.
Speaking at the event, BHF Head of Nurse Education 4 and Events, Cynthia Curtis stated, "Tracy has consistently given a high level of cardiac care over a long period of time. She provides patients and their families with support and information to help them understand and manage their condition. "
If you are interested in helping BHF Northern Ireland continue the vital work in supporting people living with heart disease in Northern Ireland, please contact Gary Wilson, Fundraising and Volunteering Manager on 6863 2828 or by email on wilsong@bhf.org.uk.