by JULIEANN SPENCE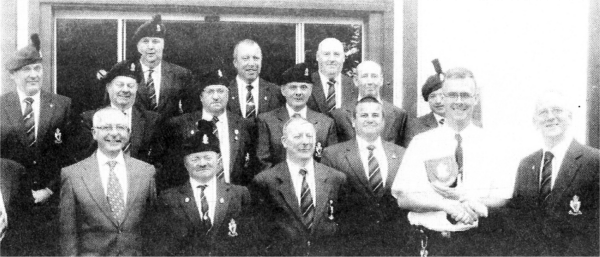 The Lisburn Branch of the Royal Irish Rangers Old Comrades Association thank the manager of the Flanders Hotel for his hospitality.
THE Royal Irish Rangers Old Comrades Association (Lisburn) recently returned from a visit to the war graves in Belgium.
The group made the journey part of their Regimental 40th Anniversary commemorations. to pay tribute to those who math the ultimate sacrifice.
They were also joined by special guest Tommy Bell, who travelled with the Association in the hope of finding the grave of his grandfather Sergeant T Davidson, who died on July 15, 1916, and buried at Caudry Old Communal Cemetery.
Mr Bell was delighted to be able to pay tribute to his grandfather and took the opportunity to lay a cross on the grave.
| | |
| --- | --- |
| | |
| Jim Spence laid a wreath at Menin Gate on behalf or the Royal Irish Rangers Old Comrades Association (Lisburn). | Sergeant T Davidson, grandfather of Lisburn man Tommy Bell. US2608- WW1 Soldier |
During their time in Belgium al the beginning of June the Lisburn group visited the Ulster Tower, Thiepval Memorial and took a tour of the recently excavated trenches in Thiepval Wood, Sergeant Jim Spence also laid wreath at Menin Gate to pay tribute to those who gave then lives during the war.
Speaking after the visit MI Spence said everyone had beer very moved by the journey.
"The whole experience was very educational and emotional," he said. "We were particularly moved by the visit to Tyne Col Cemetery, where there are 38,00C British graves. The cemetery beautifully kept and the grave are in immaculate order. It is a real credit to the War Graves Commission," he added.
Mr Spence also expressed the Association's thanks to Lisburn City Council, who provided a financial contribution towards the visit. "We would like to thank everyone who helped and supported us in raising money for this important visit," concluded Mr Spence. "It really made everyone appreciate the sacrifice that was made so that we can live in