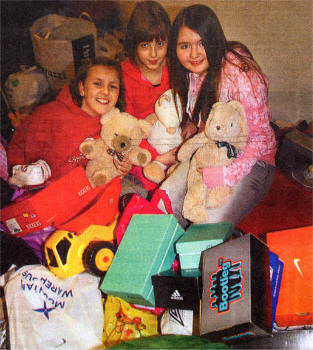 Charis Graham, Sara and Shona McComb pictured with shoe boxes and items donated to an Orphanage in the Ukraine. US0308-115A0
THREE Lisburn school girls are hoping to travel to an orphanage in Ukraine to help bring enjoyment to the lives of 160 children. Charis Graham, (Downshire Primary), Sarah McComb, (Harmony Hill Primary School ) and her sister Shona McComb, (Friends' School), w_ ill be part of a team of 12 from Ballynahinch Baptist Church who will be involved in the humanitarian project.
The girls will be accompanied by their mothers Rachel Graham and Avril McComb.
The team intend to leave for the Nove Selo orphanage on March 8 and they plan to fill a lorry container - generously organised by the McComb sisters' father - with materials, which will assist with making the orphans' lives more comfortable.
Talking about the project Rachel Graham, who went out last summer to Ukraine with a team and had the opportunity to visit an orphanage and see the conditions the children were living in said: "The visit will make the girls appreciate what they have at home.
"When I visited before I saw 160 children living in very poor conditions - windows broken, doors missing from the rooms, little heating and no regular supply of hot water - in a country where temperatures go well below zero in winter.
"We plan to take with us a container load of materials, which will improve the resources available for their education and training, and bring some enjoyment into their lives."
Rachel added that the support of local people would be greatly appreciated: "We are appealing to the community and local businesses to help provide the materials to fill this container."
She explained that some local schools are making up shoe boxes with items for the children and would be delighted to hear from others who would llike to help this way too.
Rachel said: "Our deadline for collection is February 8.
"We are still short of sewing machines, bedding, mattress protectors and washing machines.
"People can leave items at The Kingdom Life Church and coffee shop, Graham Gardens, on Saturday January 26 from 9.30am - 4pm."
• If you can help in any way please contact Rachel Graham on 07737383464 or email rachelegraham@yahoo.co.uk.