Brave act marked at Stormont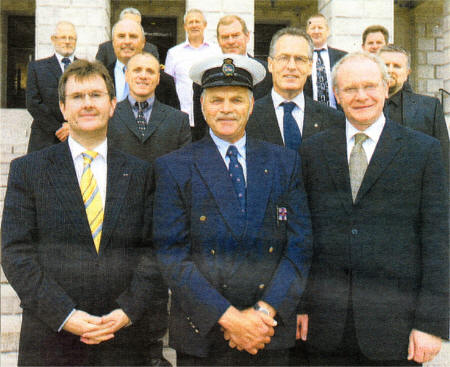 Lagan Valley MP and Junior Minister Jeffrey Donaldson and Deputy First Minister Martin McGuinness with members of the Withernsea Lifeboat Crew and Junior Minister Gerry Kelly.
LAGAN Valley MP Jeffrey Donaldson has met with a lifeboat crew who risked their lives while helping to rescue a number of his constituents and many other people from Northern Ireland trapped in the wreckage of a crashed airliner at Kegworth almost 20 years ago.
Members of the crew from Withernsea were travelling along the MI when the British Midland Boeing 737-400 en-route from Heathrow to Aldergrove, hit an embankment and broke into three parts while attempting an emergency landing at East Midlands Airport following an engine fire on Sunday 8th January, 1989.
They were drenched in aviation fuel but disregarded their own safety to spend almost four hours assisting the emergency services.
The men formed a human chain across the wing of the airliner as they helped evacuate the injured and remove the remains of those who died in the impact.
Mr. Donaldson attended the reception in Stormont to acknowledge the men's heroism in his capacity as a Junior Minister along with Deputy First Minister Martin McGuinness and Junior Minister Gerry Kelly.
He said he was 'honoured' to meet the crew who "so selflessly risked their lives to aid others.
"Too often people like this this are overlooked or indeed forgotten about once the story stops hitting the headlines," he continued.
"We should all endeavour to remind ourselves of the thousands of men and women who risk their lives each day for the safety and rescue of others. Their bravery is to be applauded."
The Deputy First Minister praised the men's courage:
"What a privilege it is to be in the company of men who showed such remarkable bravery, putting their own lives at risk and working tirelessly to rescue casualties," he said.
"Such acts of heroism are rare and it is fitting that we should acknowledge, albeit belatedly, the critical contribution they made to the rescue work that day."