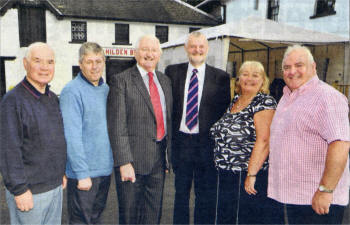 A DELEGATION from Warrington Borough Council met with the Lisburn City Council Mayor, Councillor Ronnie Crawford, and Chairman of Leisure Services Committee, Councillor Brian Heading when they visited the city.
Among the places they visited were the newly refurbished Bridge Community Centre, the Irish Linen Centre and Lisburn Museum, Castle Gardens and the Island Arts Centre. Warrington Borough Council is twinned with Hilden in Germany;
the group was thrilled to have the opportunity to visit the former Linen Mills at Hilden and Glenmore. Lisburn City Council Mayor, Councillor Ronnie Crawford said:- "I am delighted to have had the opportunity to meet with representatives from Warrington Borough Council.
"Lisburn City Council welcome visits from other Council areas, as it gives us the opportunity to showcase the major attractions that the City of Lisburn has to offer."
Councillor Brian Heading, Chairman of Lisburn City Council's Leisure Services Committee said: "It is good for such visits to take place. They give Councils the opportunity to share ideas on how local government is run in different areas, and is very beneficial.
"Both in the services provided and the areas maintained. As a city, such visits are positive, and I hope will attract further visits from other Council areas."
The Warrington delegation were due to attend as guests at a fundraising dinner at Crewe United.